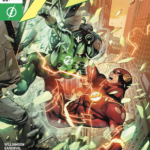 For some reason, the last two Flash issues have had no official preview pages released. This week's issue has one double-page spread posted as a first look, and that will have to do. You can see it (along with the variant cover) at Inside Pulse, and it shows us another look at the new Strength Force user Fuerza, who was briefly introduced at the end of last issue.
THE FLASH #60
written by JOSHUA WILLIAMSON
art by RAFA SANDOVAL and JORDI TARRAGONA
cover by RAFA SANDOVAL and JORDI TARRAGONA
variant cover by HOWARD PORTER
Barry puts his fleet feet in his mouth against the next Force wielder he meets! Introducing the new Strength Force user, Powerhouse: she's a young rebel using her powers to fight the corrupt police state in Corto Maltese. When Barry learns that she wants to use her super-strength to overthrow the government, he tries to intervene—and ends up tripping into a melee with the new hero instead.
ON SALE 12.12.18
$3.99 US | 32 PAGES
FC | RATED T
This issue will ship with two covers.
Please see the order form for details.
Share