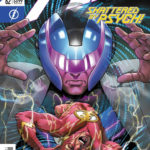 DC has posted the official preview pages for Flash #62, which you can read in full at Comicosity. It gives us a better glimpse of the new Sage Force user Psych, who we met briefly last issue, though one wonders if we can trust him.
THE FLASH #62
written by JOSHUA WILLIAMSON
art by CHRISTIAN DUCE
cover by DAVID YARDIN
variant cover by JAE LEE
The Flash tracks down a new user of the mysterious Sage Force, a young Zandarian spy named Bashir (a.k.a. Psyche), who's just starting to understand his newfound abilities. Here's hoping he's a quick study, because the Flash needs his help against the dual threat known as Gemini, who wants to steal both the Speed and Sage Forces! And whose side is Power-house on when the Strength Force agent shows up to flex her muscle?
ON SALE 01.16.19
$3.99 US | 32 PAGES
FC | RATED T
This issue will ship with two covers. Please see the order form for details.
Share