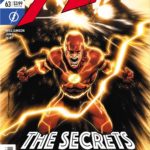 DC has released the official preview pages for this week's Flash #63 (there are two Flash issues out this week), and you can see them at DC Comics News. The pages have been shrunk down on the site, but you can make them full size by changing each image URL; I posted larger versions at my fandom blog, if that helps. Mind you, Tumblr also shrinks down images, so those aren't full-sized either.
THE FLASH #63
written by JOSHUA WILLIAMSON
art and cover by RAFA SANDOVAL and JORDI TARRAGONA
variant cover by HOWARD CHAYKIN
It's two against one when Gemini tag-teams the Flash! The threat is doubled for the Scarlet Speedster when Gemini gets their hands on the Strength Force. But where's that leave Powerhouse? She and the Flash must ride or die together in order to get her super-strength back, but they'll have to survive a trip through the Strength Force first. Follow along in the Flash's footsteps on the next leg of his Force Quest!
ON SALE 01.30.19
$3.99 US | 32 PAGES
FC | RATED T
This issue will ship with two covers.
Please see the order form for details.
Share