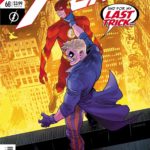 DC has posted the official five-page preview for this week's issue of The Flash, and you can see it at Superhero Hype. In it, we see a little more of the Trickster's unusual base of operations and how he's been controlling people. Be sure to check out the pages at the link!
THE FLASH #68
written by JOSHUA WILLIAMSON
art by SCOTT KOLINS
cover by DAN MORA
variant cover by MITCH GERADS
The Flash has arrived back in his home of Central City to discover something…off. The people are all acting strangely, including his friends and colleagues—but before Barry can figure out why, the entire Central City PD attacks! At last the great trick is revealed: the Trickster now rules supreme! With Iron Heights as his fun-house base of operations, Trickster plunges the entire city into madness—and the Flash is powerless to save them!
ON SALE 04.10.19
$3.99 US | 32 PAGES
FC | RATED T
This issue will ship with two covers.
Please see the order form for details.
Share