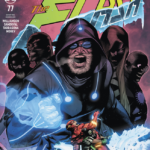 DC has posted two preview pages for this week's issue of The Flash, and you can see them at Inside Pulse. In it, we see the upgraded version of Weather Wizard, who has changed significantly. Be sure to check out the pages at the link!
THE FLASH #77
written by JOSHUA WILLIAMSON
art and cover by RAFA SANDOVAL and JORDI TARRAGONA
card stock variant cover by YASMINE PUTRI
"Death of the Speed Force" continues! The Speed Force is collapsing, and its destructor is here…to save the day?! The Strength, Sage and Still forces have placed a dangerous strain on the force that empowers the DC Universe's super-speedsters, and the Flash is about to face the impossible choice of saving his friends' lives or losing his powers forever!
ON SALE 08.28.19
$3.99 US | 32 PAGES
CARD STOCK VARIANT COVER $4.99
FC | RATED T
This issue will ship with two covers.
Please see the order form for details.
Share