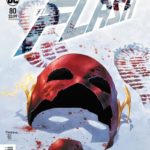 DC has posted five official preview pages for next week's issue of The Flash, and you can see them at Geeks WorldWide. In the preview, the Black Flash is frustrated because it can't find the kidnapped Steadfast, so Barry and Iris must figure out what to do next. Check out the pages at the link!
THE FLASH #80
written by JOSHUA WILLIAMSON
art by SCOTT KOLINS
cover by RAFA SANDOVAL
card stock variant cover by HOWARD PORTER
"The Hunter and the Hunted" part one! Barry Allen is hurt, and his connection to the Speed Force is fading fast. With the Speed Force dying, the only person who can save it is…Hunter Zolomon? Hunter has returned to prove he's the one, true Flash, and he doesn't care who gets in his way. But who is left to deal with the Rogues? Captain Cold has assembled the newly amped-up Rogues to tell them about Lex Luthor's offer…but are they all willing to take it?
ON SALE 10.09.19
$3.99 US | 32 PAGES
CARD STOCK VARIANT COVER $4.99 US
FC | RATED T
This issue will ship with two covers.
Please see the order form for details.
Share