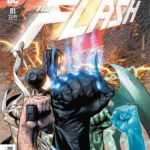 DC has posted the official preview pages for this week's issue of The Flash, and you can see them at SuperHeroHype. You may have to save the images to read them, though; they're oddly small at the site itself.
In the preview, Zoom continues his quest to kill the Black Flash and defeat Death itself, which may be an ill-advised scheme.
THE FLASH #81
written by JOSHUA WILLIAMSON
art by SCOTT KOLINS
cover by RAFA SANDOVAL
variant cover by GUILLEM MARCH
"The Hunter and the Hunted" part two! This is one issue you cannot miss! The last gasp of the Speed Force! Can Barry Allen and Hunter Zolomon work together long enough to beat death and save the Speed Force? Can Kid Flash and Avery, the Flash of China, discover what the Rogues want within the wreckage of Iron Heights? Even if the Flash survives, nothing will ever be the same again for the Flash family!
ON SALE 10.23.19
$3.99 US | 32 PAGES
FC | RATED T
This issue will ship with two covers.
Please see the order form for details.
Share