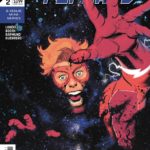 DC has posted six preview pages for this week's Flash Forward #2, and you can see them at SuperHeroHype. In it, Wally begins his tour of the Multiverse and helps President Superman on Earth-23 during a crisis. Check it out at the link!
FLASH FORWARD #2
written by SCOTT LOBDELL
art by BRETT BOOTH and NORM RAPMUND
cover by EVAN "DOC" SHANER
variant cover by INHYUK LEE
When the border between the Multiverse and the Dark Multiverse starts to buckle, who do you turn to? The answer: Wally West. Once the Fastest Man Alive, he's now a man with nothing left to live for. Will Tempus Fuginaut's chosen champion rise to the occasion and fight back the demons of the darkness, or will Wally's own demons win the day?
ON SALE 10.16.19
$3.99 US | 2 of 6 | 32 PAGES
FC | RATED T+
This issue will ship with two covers.
Please see the order form for details.
Share