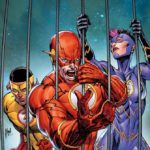 DC has posted the preview pages for this week's issue of The Flash, and you can read them at Den Of Geek. In it, we see the fallout of the Rogues' domination of Central City, and are left to wonder what's happened to Barry, Wallace, and Avery. And who is part of the insurgency?
THE FLASH #82
writtenby JOSHUA WILLIAMSON
art by RAFA SANDOVAL
acetate cover by GUILLEM MARCH
variant cover by KAMOME SHIRAHAMA
"Rogues Reign" part one! The speed force is dead, doom has gripped the earth, and the FLASH lives in a nightmare! Powered-up by Lex Luthor's offer, Captain Cold led his team of Rogues to ultimate victory over Central City. Through the might of Mirror Master's amplified abilities, the rogues have re-shaped reality itself into their own kingdoms of cruelty – Heat Wave's volcanic territory, Weather Wizard's floating armory of the elements, and at the center of it all, the icy castle of Captain Cold. But with the villains stealing the show, why is the greatest threat to their reign one of their own?
ON SALE 11.13.18
$3.99 US | 32 PAGES
FC | RATED T
This issue will ship with two covers. Please see the order form for details.
Please note the acetate covers will be available on first printings only.
Share