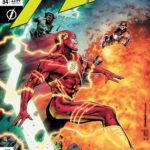 DC has posted several preview pages for this week's issue of The Flash, and you can see them at SuperHeroHype. In them, we see the Flash crew approach the moody and unstable Weather Wizard to obtain his shard of mirror in order to stop King Cold. Check it out at the link.
THE FLASH #84
written by JOSHUA WILLIAMSON
art by CHRISTIAN DUCE
cover by RAFA SANDOVAL and JORDI TARRAGONA
card stock variant cover by KENNETH ROCAFORT
"Rogues' Reign" part three! The Speed Force is out of control, but the Flash must learn to harness it again if he's to stand a chance against the powered-up Rogues! With the freshly crowned King Cold leading the charge to hunt the speedster down, all hope seems lost…or is it? An unexpected ally and the save of a lifetime comes to our hero in the form of one of Cold's oldest and most trusted friends—is this icy betrayal what the scarlet speedster needs to turn the tide and set the world right?
ON SALE 12.11.19
$3.99 US | 32 PAGES
CARD STOCK VARIANT COVER $4.99 US
FC|DC
This issue will ship with two covers. Please see the order form for details.
Share