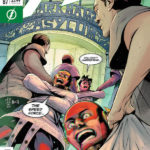 DC has posted the preview for next week's Flash issue, and you can see it at Multiversity Comics. In the preview, Barry and Captain Cold have a face-off on the way to Arkham Asylum, and tell each other how they really feel. Check it out at the link!
THE FLASH #87
written by JOSHUA WILLIAMSON
art and cover by RAFA SANDOVAL and JORDI TARRAGONA
variant cover by DUSTIN NGUYEN
"Rogue's Reign" aftermath! Central City is in ruins! The Rogues are on the run! The Speed Force is in chaos—and the Flash's powers make him too dangerous to remain free! But who can bring him in? Plus, a surprise character returns from Barry's past with a grave warning about his future!
ON SALE 01.29.20
$3.99 US | 32 PAGES
FC|DC
This issue will ship with two covers. Please see the order form for details.
Share