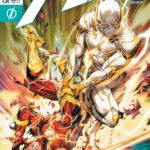 DC has posted several preview pages for Flash #751, and you can see them at CBR. The issue is due out on March 11th, which is only one week after the big milestone issue because that had been delayed.
In the preview, Godspeed hints a bit about his motivation for working with Paradox, and we see that Commander Cold left something for Barry. Check it out at the link!
THE FLASH #751
written by JOSHUA WILLIAMSON
art by RAFA SANDOVAL
cover by HOWARD PORTER
variant cover by JUNGGEUN YOON
The Flash battles Godspeed as "Flash Age" continues! In this issue, Paradox enlists Godspeed in his mission to erase the Flash legacy from existence! But when Godspeed's allegiance comes into question, Paradox proves he may be the strongest foe Barry Allen's ever faced!
ON SALE 03.11.20
$3.99 US | 32 PAGES
FC | DC
This issue will ship with two covers.
Please see the order form for details.
Share