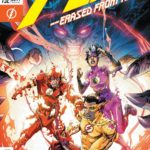 DC has posted six pages from next week's issue of The Flash, and you can see them at Adventures In Poor Taste. In the preview, Barry talks with his mother and sees fantastic visions of a beautiful world…but what has happened to him, and what does it all mean?
THE FLASH #752
written by JOSHUA WILLIAMSON
art and cover by HOWARD PORTER
variant cover by JUNGGEUN YOON
Exiled outside time and space in Paradox's realm, the Scarlet Speedster is confronted by ghosts from his past! Meanwhile, Iris discovers the one person who may help the Flash defeat Paradox—and it's not anyone Barry Allen would ever ask for help! Will they be able to find where—or when—this unlikely ally is hiding before it's too late?
ON SALE 03.25.20
$3.99 US | 32 PAGES
FC | DC
This issue will ship with two covers.
Please see the order form for details.
Share