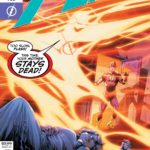 DC has posted several preview pages for this week's issue of The Flash, and you can see them at Comic Watch. This is the first Flash issue since the pandemic shutdown, but you may recall that Barry learned last issue that Eobard Thawne was the only person to defeat Paradox, and thus may need his help. It will be a painful team-up, I'm sure.
Check out the pages at the link.
THE FLASH #753
written by JOSHUA WILLIAMSON
art and cover by HOWARD PORTER
variant cover by JUNGGEUN YOON
In this "Flash Age" interlude, the Fastest Man Alive must find the Reverse-Flash to stop Paradox's annihilation of the Flash legacy. But catching a time-traveler is extremely difficult, and the Flash's quest to find Eobard Thawne takes him to tragic moments in time he never thought he'd have to revisit.
ON SALE 04.08.20
$3.99 US | 32 PAGES
FC | DC
This issue will ship with two covers.
Please see the order form for details.
Share