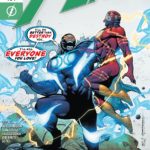 DC has posted several preview pages for next week's issue of The Flash, and you can read them at CBR. In the preview, we see the beginning of the team-up between the Flash and Reverse Flash, and they observe the effects of Paradox's violent handiwork. Check out the pages at the link.
THE FLASH #754
written by JOSHUA WILLIAMSON
art by CHRISTIAN DUCE
cover by RAFA SANDOVAL and JORDI TARRAGONA
card stock variant cover by RAFAEL GRAMPÁ
The Flash is on the run as "The Flash Age" continues! Paradox accomplished his mission to make everyone see the Flash as a monster—and now Flash and the Reverse-Flash are trapped in a 25th century Central City that hates the Flash family and legacy. Now a wanted man, Flash must turn to an unexpected place to get help to return to his own time!
ON SALE 04.22.20
$3.99 US | 32 PAGES
CARD STOCK VARIANT COVER $4.99 US
FC | DC
This issue will ship with two covers.
Please see the order form for details.
Share