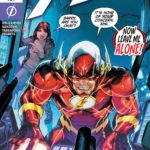 DC has posted five preview pages for next week's issue of The Flash, and you can see them at Adventures In Poor Taste. In the preview, we see Eobard Thawne relishing his new role after last issue's body-snatching, and Barry must deal with the trapped spirits of Jesse Quick and Max Mercury. Check it out at the link!
THE FLASH #759
written by JOSHUA WILLIAMSON
art by RAFA SANDOVAL and JORDI TARRAGONA
cover by HOWARD PORTER
variant cover by INHYUK LEE
A NEW STORY LINE BEGINS!
"Finish Line" part one of four—leading to the finale of Joshua Williamson's legendary run on The Flash! It's Barry Allen's last race! The Legion of Zoom has won. Central City is in ruins. Barry Allen is trapped in the Speed Force, his body taken over by the Reverse-Flash!
ON SALE 08.11.20
$3.99 US | 32 PAGES
FC | DC
This issue will ship with two covers.
Share