DC has posted the full complement of solicitations for February 2021, and here are all the ones relating to the Flash. That month sees the continuation of the "Future State" crossover with Flash stories in three different books, as well as a collection of TPBs and a children's book which looks fun.
You can see the solicits in their entirety at CBR.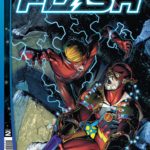 FUTURE STATE: THE FLASH #2
written by BRANDON VIETTI
art and cover by BRANDON PETERSON
card stock variant cover by KAARE ANDREWS
ON SALE 2/2/21
$3.99 US | 32 PAGES | 2 OF 2 | FC | DC
CARD STOCK COVER $4.99 US
All hope is lost as Barry Allen races to save his former partner, Wally West. Armed with the weapons of the Rogues who once tried to destroy the Flash, Barry plots an attack that'll either free the former Kid Flash from the evil that's possessed him—or end his threat forever!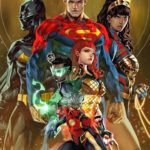 FUTURE STATE: JUSTICE LEAGUE #2
"Justice League" written by JOSHUA WILLIAMSON
"Justice League" art by ROBSON ROCHA and DANIEL HENRIQUES
"Justice League Dark" written by RAM V
"Justice League Dark" art by MARCIO TAKARA
cover by DAN MORA
card stock variant cover by KAEL NGU
ON SALE 2/9/21
$5.99 US | 48 PAGES | 2 of 2 | FC | DC
CARD STOCK VARIANT COVER $6.99 US
Exiled to a distant planet, the Justice League suspects an impostor in their midst, but not even the next Batman or Green Lantern can find the clues they're looking for. Meanwhile on Earth, the terrifying return of a classic Justice League villain may spell doom for the planet! Doppelgängers abound, paranoia runs rampant, and only the Justice League can save humanity—if they can ever find their way home.
Plus, all the world's terrible truths are revealed as the Justice League Dark make their last stand. Hunted, beaten, and harvested for their magic, Zatanna, John Constantine, Detective Chimp, Ragman, Madame Xanadu, and Etrigan all unleash a desperate plan that could destroy them—but is it worth the cost to finish Mad Merlin and his mysterious Knights? Only Doctor Fate knows, and the truth may spell hope or doom!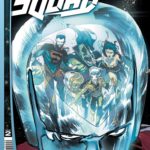 FUTURE STATE: SUICIDE SQUAD #2
"Suicide Squad" written by ROBBIE THOMPSON
"Suicide Squad" art by JAVI FERNANDEZ
"Black Adam" written by JEREMY ADAMS
"Black Adam" art by FERNANDO PASARIN
cover by JAVI FERNANDEZ
card stock variant cover by DERRICK CHEW
ON SALE 2/23/21
$5.99 US | 48 PAGES | 2 OF 2 | FC | DC
CARD STOCK COVER $6.99 US
Peacemaker attacks! Assigned to bring Amanda Waller back to Earth-1 at all costs, the Suicide Squad battles Waller's private Justice League on Earth-3. As lives are lost and blood is spilled, the fate of the Multiverse will be decided by Superman!
Also in this issue, the 853rd Century is burning, and only Black Adam can save reality from the onslaught of murderous rage from a new threat spawned from a former hero.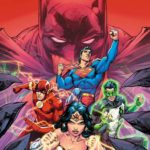 JLA: THE TOWER OF BABEL THE DELUXE EDITION HC
written by MARK WAID
art by HOWARD PORTER and others
cover by HOWARD PORTER
ON SALE 4/27/21
$34.99 US | 264 PAGES | FC | DC
HARDCOVER | 7.0625″ x 10.875″
ISBN: 978-1-77950-951-2
Batman is the ultimate strategist, using his intelligence and resources to secure his place among his super-powered allies in the Justice League, not just as a member, but as one of the team's leaders. But what happens when that intelligence is used against him? Ra's al Ghul takes out the JLA, one member at a time' using plans devised by Batman himself, with his own methods to subdue his teammates if they ever got out of control. Can the Justice League recover in time to stop Ra's?
This collection of JLA adventures also includes a spacefaring mission guest-starring Adam Strange, as well as the Justice League investigating mysterious destruction in Gotham City! This volume collects JLA #18-21, #32-33, and #43-46, and two stories from JLA Secret Files #3.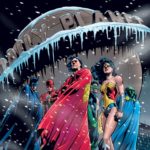 THE FINAL NIGHT TP
written by KARL KESEL and RON MARZ
art by STUART IMMONEN, MIKE McKONE, DARRYL BANKS, and others
cover by STUART IMMONEN and JOSE MARZAN JR.
ON SALE 3/9/21
$16.99 US | 176 PAGES | FC | DC
TRADE PAPERBACK
ISBN: 978-1-77901-912-3
Darkness envelops the DC Universe, as the aptly named alien known as the Sun-Eater plunges the Earth into permanent night—and along with it, freezing temperatures and ecological disaster. Can DC's greatest heroes and scientists save the day? And what does this mean for Superman, whose powers are derived from Earth's sun? With hope all but lost, can Hal Jordan save a planet he previously turned his back on? And if so, at what cost? Collects The Final Night #1-4, Parallax: Emerald Night #1, Green Lantern #81, and The Final Night Preview #1.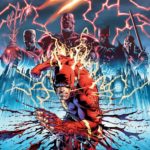 FLASHPOINT: THE 10TH ANNIVERSARY OMNIBUS HC
written by GEOFF JOHNS, SCOTT SNYDER, JEFF LEMIRE, JAMES ROBINSON, BRIAN AZZARELLO, DAN JURGENS, PETER MILLIGAN, JIMMY PALMIOTTI, ADAM GLASS, DAN ABNETT, and others
art by ANDY KUBERT, FRANCIS MANAPUL, DAN JURGENS, EDUARDO RISSO, MIKEL JANíN, BEN OLIVER, SCOTT KOLINS, RAGS MORALES, and others
cover by ANDY KUBERT and SANDRA HOPE
ON SALE 4/20/21
$150.00 US | 1,504 PAGES | FC | DC
HARDCOVER | 7.0625″ x 10.875″
ISBN: 978-1-77950-977-2
The event that reshaped the DC Universe, now collected in its entirety in one massive omnibus edition!
Barry Allen works for the Central City Police Department, where he's solved numerous criminal cases. As the Flash, he protects the innocent and battles evil. He is the Fastest Man Alive! Or he was…
Barry Allen wakes up to a world that is not his own. A place where his mother was never killed…and the Flash never existed. This altered universe is on the brink of a cataclysmic war. No human has ever wielded the Green Lantern's light, and no one has ever heard of Superman. Batman has as much blood on his hands as his enemies do, and America's last hope is Cyborg. Powerless and alone, Barry Allen desperately tries to hold on to his memories of the reality that once was. If there is any hope of setting things right, he must convince this world's strange, dangerous heroes to help him fix what was broken.
This omnibus collects Flashpoint #1-5, Booster Gold #44-47, The Flash #9-12, Flashpoint: Reverse-Flash #1, Flashpoint: Abin Sur the Green Lantern #1-3, Flashpoint: Emperor Aquaman #1-3, Flashpoint: Batman Knight of Vengeance #1-3, Flashpoint: Citizen Cold #1-3, Flashpoint: The World of Flashpoint #1-3, Flashpoint: Deadman and the Flying Graysons #1-3, Flashpoint: Deathstroke and the Curse of the Ravager #1-3, Flashpoint: Lois Lane and the Resistance #1-3, Flashpoint: The Outsider #1-3, Flashpoint: Secret Seven #1-3, Flashpoint: The Canterbury Cricket #1, Flashpoint: Wonder Woman and the Furies #1-3, Flashpoint: Kid Flash Lost #1-3, Flashpoint: Project Superman #1-3, Flashpoint: Frankenstein and the Creatures of the Unknown #1-3, Flashpoint: Green Arrow Industries #1, Flashpoint: Grodd of War #1, Flashpoint: Hal Jordan #1-3, and Flashpoint: The Legion of Doom #1-3.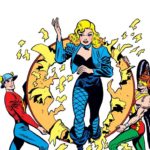 BLACK CANARY: BIRD OF PREY TP
written by ROBERT KANIGHER,
GARDNER FOX, and DENNIS O'NEIL
art by CARMINE INFANTINO, ALEX TOTH, MURPHY ANDERSON, and others
cover by CARMINE INFANTINO
ON SALE 3/9/21
$29.99 US | 294 PAGES | FC | DC
TRADE PAPERBACK
ISBN: 978-1-77950-908-6
She's appeared on TV and in movies—and now Black Canary stars in this title collecting the best of her classic adventures from the Golden Age to the Bronze Age! These tales guest-star Johnny Thunder, Starman, and more! Collects stories from Adventure Comics #399 and #418-419, The Brave and the Bold #61-62, Flash Comics #86-88 and #90-104, DC Special #3, and Comic Cavalcade #25.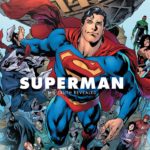 SUPERMAN VOL. 3: THE TRUTH REVEALED TP
written by BRIAN MICHAEL BENDIS , MATT FRACTION, JODY HOUSER, and GREG RUCKA
art by IVAN REIS, JOE PRADO, BRYAN HITCH, KEVIN MAGUIRE, STEVE LIEBER, MIKE PERKINS, and others
cover by IVAN REIS and JOE PRADO
ON SALE 3/9/21
$17.99 US | 192 PAGES | FC | DC
TRADE PAPERBACK
ISBN: 978-1-77950-571-2
Now in softcover—his truth is revealed! After decades of leading a double life, the Man of Steel makes the monumental decision to reveal his identity to the world—leading to major repercussions in Metropolis and beyond. In a story that made international headlines, find out how the world reacted to discovering Superman and Clark Kent are one and the same. Plus, the Super Sons are reunited as Jonathan and Damian team for a new adventure—right before Jonathan has to decide if he'll travel a thousand years into the future and join the Legion of Super-Heroes. Collects Superman #16-19, Superman: Heroes #1, and Superman: Villains #1.
WHO'S WHO OMNIBUS VOL. 1 HC
written and illustrated by VARIOUS
cover by GEORGE PÉREZ
ON SALE 4/13/21
$150.00 US | 1,320 PAGES | FC | DC
HARDCOVER
ISBN: 978-1-77950-599-6
The series fans demanded is collected at last! Who's Who began in 1984 and ran through the 1990s, cataloguing every character, good or evil, in the DC Universe, from Abel to Zyklon and beyond—with copious detail on powers, origins, and other key facets of each character. Illustrated by a wide range of top artists from the Golden Age of comics through the 1980s indie comics scene, Who's Who was a feast for the eyes and the ultimate guide to the denizens of the DC Universe. Collects Who's Who: The Definitive Directory of the DC Universe #1-26 (1985), Who's Who Update '87 #1-5 (1987), Who's Who Update '88 #1-4 (1988), plus material from these 1989 annuals: Action Comics Annual #2, Batman Annual #13, Blackhawk Annual #1, Detective Comics Annual #2, Doctor Fate Annual #1, Green Arrow Annual #2, Justice League Annual #3, Secret Origins Annual #3, Swamp Thing Annual #5, The Flash Annual #3, The New Titans Annual #5, The Question Annual #2, and Wonder Woman Annual #2.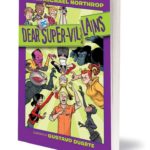 DEAR DC SUPER-VILLAINS TP
written by MICHAEL NORTHROP
art and cover by GUSTAVO DUARTE
ON SALE 4/6/21
$9.99 US | 176 PAGES | 5.5″ x 8″ | FC
ISBN: 978-1-77950-977-2
Peek inside the lives of DC's infamous rogues in Dear DC Super-Villains, the sequel to Dear Justice League, in which curious kids write to notorious scoundrels, asking them about life on the dark side.
How did Gorilla Grodd get so smart? Did Harley Quinn ever try a career in comedy? Why does Catwoman always lose to Batman?
Each chapter highlights members of the Legion of Doom in a sympathetic way that is relatable to kids. But look closely and you may notice the baddies are up to something big! Will the Justice League show up in time to stop them? You'll have to write in to the tip line of evil to find out!
Share