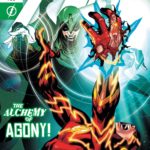 DC has posted four pages of next week's issue of The Flash, and you can see them at Adventures In Poor Taste. In the preview, Barry has to deal with the loss of his speed, as well as figure out how to stop the rampaging Dr Alchemy. Check it out at the link!
THE FLASH #765
written by KEVIN SHINICK
art by CLAYTON HENRY
cover by BERNARD CHANG
variant cover by INHYUK LEE
ON SALE 11/10/20
$3.99 US | 32 PAGES | FC | DC
Dr. Alchemy takes another step closer to unstoppable power and immortality as he devises a way to combine himself with the power of the Philosopher's Stone. The Flash will have to discover that being faster than his foe may not be enough!
Share