DC has posted their full complement of solicitations for March 2021, and here are all the ones relating to the Flash. That month sees the debut of Infinite Frontier, a new era for DC Comics (much like Rebirth and the New 52 were their own distinct eras). As such, there's an Infinite Frontier #0 anthology out to introduce readers to the new status quo, and a variety of series are being relaunched. The Flash book continues its previous numbering, though, albeit with a new creative team as mentioned here yesterday.
You can see the solicits in full at Newsarama.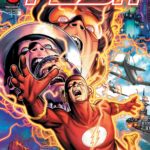 THE FLASH #768
written by JEREMY ADAMS
art and cover by BRANDON PETERSON
variant cover by IAN MacDONALD
ON SALE 3/16/21
$3.99 US | 32 PAGES | FC | DC
The retirement of Wally West begins! After the events spanning from DC Universe: Rebirth to Heroes in Crisis to Dark Nights: Death Metal, the former Kid Flash decides to call it quits. But the current Flash needs his former partner now more than ever. As fallout from Infinite Frontier hits the Flash, Barry Allen and Wally West must confront the past by way of a Justice League led by Green Arrow.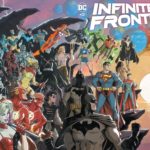 INFINITE FRONTIER #0
written by SCOTT SNYDER, GEOFF JOHNS, JAMES TYNION IV, JOSHUA WILLIAMSON, GEOFFREY THORNE, PHILLIP KENNEDY JOHNSON, BRIAN MICHAEL BENDIS, BECKY CLOONAN, MICHAEL W. CONRAD, JOËLLE JONES, and TIM SHERIDAN
art by JOHN TIMMS, HOWARD PORTER, JOËLLE JONES, JORGE JIMENEZ, ALITHA MARTINZEZ, DAVID MARQUEZ, STEPHEN BYRNE, JAMAL IGLE, DEXTER SOY, RAFA SANDOVAL, ALEX MALEEV, JOHN ROMITA JR., and others
wraparound cover by DAN JURGENS and MIKEL JANÍN
card stock variant cover by JOHN TIMMS
ONE-SHOT | ON SALE 3/2/21
$5.99 US | 64 PAGES | FC | DC
card stock variant cover $6.99 US
The next phase of the DC Universe begins here! Dark Knights: Death Metal presented the darkest threats of the Multiverse. DC Future State revealed what may lie ahead. Now it's time to look into the Infinite Frontier of the current-day DC Universe.
In Gotham City, The Joker jolts citizens awake with an attack even the Dark Knight never expected. In Brazil, a young woman discovers her destiny and her connection to the Amazons. In Belle Reve, Amanda Waller plots an invasion of Arkham Asylum. In the far reaches of space, Mongul dreams of galactic domination, while the Green Lantern Corps hosts a summit of its greatest enemies. At the Hall of Justice, the League joins forces with Black Adam. Beyond the mortal world, Wonder Woman settles into a new role in the godsphere. And somewhere in the DC Universe—it's the return of Stargirl, in an all-new tale written by Geoff Johns!
This oversized, all-star issue kicks off the next great era of storytelling and excitement as top writers and artists reveal what's next for the World's Greatest Heroes and opens the door to some of the greatest stories of 2021.
JUSTICE LEAGUE #59
written by BRIAN MICHAEL BENDIS
art and cover by DAVID MARQUEZ
backup story written by RAM V
backup story art by XERMANICO
wraparound variant cover by DAVID MARQUEZ
variant cover by KAEL NGU
ON SALE 3/16/21
$4.99 US | 40 PAGES | FC | DC
Writer Brian Michael Bendis reunites with artist David Marquez (Miles Morales, Iron Man, Batman/Superman) for a new, star-studded Justice League featuring Superman, Batman, the Flash, Hawkgirl, Aquaman, Hippolyta, new DC powerhouse Naomi, and…is that Black Adam?! Superman is leading the charge to reinvent the Justice League—and at the same time, a new, cosmic-powered threat arrives from Naomi's homeworld to rule the Earth!
And in the backup story, dark days lie ahead for the new Justice League Dark. Zatanna and John Constantine take a road trip, only to discover horror around the bend as a friend—and sometime foe—is reborn in fire! A legend is destroyed, and another takes a terrible turn, as Merlin reveals the beginning of a new, blood-drenched plot for all humankind. So begins writer Ram V's new journey into the abyss with the Justice League Dark and artist Xermanico!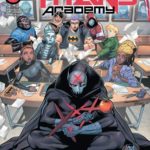 TEEN TITANS ACADEMY #1
written by TIM SHERIDAN
art and cover by RAFA SANDOVAL
variant cover by JAMAL CAMPBELL
ON SALE 3/23/21
$3.99 US | 32 PAGES | FC | DC
Welcome to Teen Titans Academy! Packed with both new, super-powered teens and numerous dark secrets, Teen Titans Academy's student body includes Shazam; a new Australian speedster; a trio of Goth(am) teen expatriates obsessed with Batman—and one member of this first class will become the deadly Red X. Original New Teen Titans including Nightwing, Starfire, Raven, Cyborg, and Beast Boy take on the role of teachers and mentors for superpowered teens. Their goal: to shape the next generation of heroes.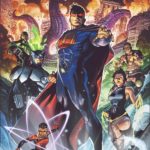 CRIME SYNDICATE #1
written by ANDY SCHMIDT
art by KIERAN McKEOWN
backup story art by BRYAN HITCH
cover by JIM CHEUNG
variant cover by SKAN
ON SALE 3/2/20
$3.99 US | 32 PAGES | 1 OF 6 | FC | DC
Spinning out of Dark Nights: Death Metal, the Multiverse is reborn—and Earth-3 with it! In this six-issue miniseries, witness the true origins of the malevolent makers of mayhem known as the Crime Syndicate as a common foe unites them! But how long can alliances last between villains like these?
Also in this issue, it's the origin of Ultraman in our special backup story drawn by superstar artist Bryan Hitch!
DARK KNIGHTS: DEATH METAL: THE DARKEST KNIGHT TP
written by SCOTT SNYDER, JOSHUA WILLIAMSON, JAMES TYNION IV, PETER J. TOMASI, MARGUERITE BENNETT, FRANK TIERI, DANIEL WARREN JOHNSON, GARTH ENNIS, CHIP ZDARSKY, BECKY CLOONAN, VITA AYALA, and CHRISTOPHER PRIEST
art by EDDY BARROWS, FRANCIS MANAPUL, TONY S. DANIEL, JUAN GEDEON, RILEY ROSSMO, JAMAL IGLE, FRANCESCO FRANCAVILLA, DANIEL WARREN JOHNSON, JOëLLE JONES, DOUG MAHNKE, KHARY RANDOLPH, BECKY CLOONAN, DAN PANOSIAN, and EDUARDO RISSO
cover by TONY S. DANIEL
ON SALE 4/20/21
$19.99 US | $25.99 CAN | 208 PAGES | FC | DC
TRADE PAPERBACK
ISBN: 978-1-77950-792-1
As Earth has been taken over by the Dark Multiverse, the Justice League fights to survive! The stories collected here expand the tapestry of metal mayhem from Dark Nights: Death Metal.
These epic tales introduce Robin King, along with a sentient Batmobile and Batmanasaurus Rex, as well as a drag race from hell starring the extended Flash Family. Then, it's the trinity of Batman, Superman, and Wonder Woman versus the Anti-Monitor, Superboy Prime, and Darkseid! Plus, Owlman, President Superman, Iris West, Captain Carrot, and Guy Gardner team up, and we witness the fallout from the World's Greatest Heroes' battle against Perpetua!
Collects Dark Nights: Death Metal Legends of the Dark Knights #1, Dark Nights: Death Metal Speed Metal #1, Dark Nights: Death Metal Trinity Crisis #1, Dark Nights: Death Metal Multiverse's End #1, and Dark Nights: Death Metal Guidebook #1.
SUPERMAN'S GREATEST TEAM-UPS HC
written by MIKE W. BARR, CARY BATES, E. NELSON BRIDWELL, GARY COHN, GERRY CONWAY, STEVE ENGLEHART, STEVE GERBER, DAN MISHKIN, DENNIS O'NEIL, MARTIN PASKO, and LEN WEIN
art by MURPHY ANDERSON, RICH BUCKLER, DICK DILLIN, DON HECK, JIM STARLIN, JOE STATON, CURT SWAN, ALEX SAVIUK, RICK VEITCH, and others
cover by GIL KANE
ON SALE 4/6/21
$49.99 US | $65.99 CAN | 400 PAGES | FC | DC
HARDCOVER
ISBN: 978-1-77950-486-9
The greatest Superman team-up tales from the pre-Crisis on Infinite Earths era of the late 1970s and 1980s are collected in hardcover for the first time! In these stories from the pages of DC Comics Presents, the Man of Tomorrow faces evil with the help of heroes including Wonder Woman, Aquaman, Mister Miracle, Batgirl, Black Canary, the Flash, and even Santa Claus and…Clark Kent? Collects DC Comics Presents #5, #9-10, #12, #14, #19, #28, #30, #35, #38-39, #45, #50, #58, #63, #67, #71, and #97.
Share