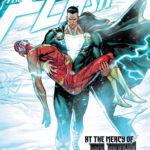 DC has posted four preview pages for next week's issue of The Flash, and you can see them at ComixWire. The issue is part of the "Endless Winter" crossover, and the preview pages are set about a thousand years in the past to set the story. Check it out at the link.
THE FLASH #767
written by ANDY LANNING and RON MARZ
art by CLAYTON HENRY
backup story art by MARCO SANTUCCI
cover by CLAYTON HENRY
variant cover by HICHAM HABCHI
ON SALE 12/8/20
$3.99 US | 32 PAGES | FC | DC
"Endless Winter" chapter two! As the world's heroes rush to stop the freezing conditions running rampant across the globe, the Fastest Man Alive speeds directly into Black Adam. With the planet losing hope, the Flash and Kahndaq's ruler must find a way to work together, while a story from Black Adam's past reveals his connection to the threat that now returns to end the world with freezing ice and fearsome frost.
Share