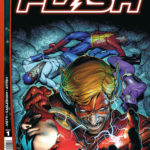 DC has posted six pages from the first issue of the Future State: Flash series, and you can see them at Adventures in Poor Taste. The issue is due out in January, and the preview features the Flash Family battling Checkmate with the Rogues' weapons to save Wally West. Check it out at the link!
FUTURE STATE: THE FLASH #1
written by BRANDON VIETTI
art by DALE EAGLESHAM
cover by BRANDON PETERSON
card stock variant cover by KAARE ANDREWS
ON SALE 1/5/21
$3.99 US | 32 PAGES | 1 OF 2 | FC | DC
CARD STOCK COVER $4.99 US
With no powers, no backup and no other choice, Barry Allen and the other former Flashes face the deadliest threat they've ever encountered —- Wally West. Possessed by an evil force trapped for thousands of years inside the Speed Force, Barry turns to his greatest foes' weapons to save the young man he loves like a son. In the end, how much will Barry sacrifice to save the former Kid Flash?
Share