DC has posted their full complement of solicitations for April 2021, and here are all the ones relating to the Flash. That month sees the second issue of Jeremy Adams' new run on the solo book, as well as some good classic Flash stories reprinted in collected editions. There haven't been nearly enough Bronze Age Flash issues collected thus far, so "The Death of Iris West" HC is a welcome addition.
You can see the solicits in their entirety at CBR.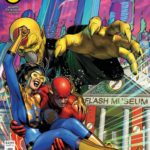 THE FLASH #769
written by JEREMY ADAMS
art by DAVID LaFUENTE
and BRANDON PETERSON
cover by BRANDON PETERSON
card stock variant cover by ZI XU
ON SALE 4/20/21
$3.99 US | 32 PAGES | FC | DC
CARD STOCK VARIANT COVER $4.99 US
After an accident pushes Wally West into the time stream, the former Kid Flash lands in the body of his onetime partner, Impulse. Now sprinting through the 30th century side by side with the mysterious (and, yeah, ridiculous) Gold Beetle, Wally must uncover what's causing the destructive explosions that keep propelling him through time and the bodies of other speedsters.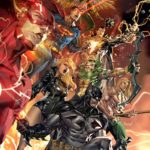 JUSTICE LEAGUE #60
written by BRIAN MICHAEL BENDIS
art and cover by DAVID MARQUEZ
backup story written by RAM V
backup story art by XERMANICO
card stock variant cover by KAEL NGU
ON SALE 4/20/21
$4.99 US | 40 PAGES | FC | DC
CARD STOCK VARIANT COVER $5.99 US
Superman, Batman, Green Arrow, Black Canary, Aquaman, and Hawkgirl join forces with Black Adam to fight an all-new world conqueror! But how do they stop the unstoppable power known as Brutus? Enter new mega-power sensation Naomi, who comes face to face with the League and brings along Queen Hippolyta of the Amazons for a blockbuster battle for the ages—with a last-page cliffhanger that will leave everyone guessing what's next!
And in the backup tale, the new Justice League meets the new Justice League Dark, and the demon Etrigan calls the team to action—but Batman has other plans. This team needs a leader, but what twisted secret prevents Zatanna from stepping forward? Plus, Ragman makes a startling discovery—one that may cost his life!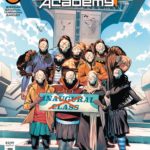 TEEN TITANS ACADEMY #2
written by TIM SHERIDAN
art and cover by RAFA SANDOVAL
card stock variant cover by PHILIP TAN
ON SALE 4/27/21
$3.99 US | 32 PAGES | FC | DC
CARD STOCK VARIANT COVER $4.99 US
The questions mount around the new school formed by the original New Teen Titans: What's going on with Billy Batson's access to the powers of Shazam, what dark secret is Raven's new pupil Dane hiding, and who's masquerading as the new Red X?
CRIME SYNDICATE #2
written by ANDY SCHMIDT
art by KIERAN McKEOWN
backup story art by BRYAN HITCH
cover by JIM CHEUNG
variant cover by TYLER KIRKHAM
ON SALE 4/6/21
$3.99 US | 32 PAGES | 2 OF 6 | FC | DC
With Starro ravaging the planet and controlling superheroes and villains alike, the fate of the world rests in the hands of Ultraman, Superia, and Owlman—in other words, win or lose, humanity is doomed!
Question of the month: What famous Gotham foes are held in Owlman's cave?
Plus, in the backup story, witness the origin of Owlman in a tale illustrated by superstar artist Bryan Hitch!
CHALLENGE OF THE SUPER SONS #1
written by PETER J. TOMASI
art by MAX RAYNOR
cover by JORGE JIMENEZ
variant cover by SIMONE DI MEO
ON SALE 4/13/21
$3.99 US | 32 PAGES | 1 OF 7 | FC | DC
The boys are back! Picking up where the sensational Adventures of the Super Sons left off, the sons of Batman and Superman are back in the spotlight and ready to give evil a good spanking. But are Robin and Superboy in over their heads this time? A mysterious woman from beyond time has appeared to the DCU's favorite sons, and her arrival heralds certain doom (that's a hint, everyone) of things to come! In fact…it seems she's sent the boys on a bogus journey that they've already…returned from? Huh? What did the boys learn when they were whisked away? Why on earth do they have to save the Flash from instant death? Tune in for the first chapter in the most epic odyssey Robin and Superboy have ever been on!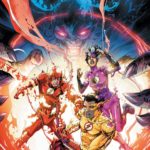 THE FLASH VOL. 14: THE FLASH AGE TP
written by JOSHUA WILLIAMSON
art by RAFA SANDOVAL and STEPHEN SEGOVIA
cover by HOWARD PORTER
ON SALE 5/11/21
$19.99 US | $25.99 CAN | 216 PAGES | FC | DC
TRADE PAPERBACK
ISBN: 978-1-77950-923-9
Meet Paradox: a new time-traveling villain with a tragic backstory who poses a big threat—and carries a big grudge against the Flash. With the Flash about to be erased from time and space, the only person who can help him defeat this foe…is Eobard Thawne, the Reverse-Flash? Can Barry Allen really trust his greatest enemy? And does he even have a choice?
As Paradox accomplishes his mission to make the world see the Flash as a monster, both the Flash and the Reverse-Flash are trapped in a 25th-century Central City that hates everything about the Flash legacy. Can Barry return to his own time and defeat Paradox? Or is too late to undo the damage that's been done?
Collects The Flash #88, The Flash #751-755, The Flash Annual #3, and the lead story from issue #750!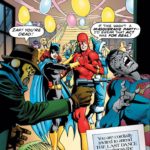 THE FLASH: THE DEATH OF IRIS WEST HC
written by CARY BATES
art by IRV NOVICK, RICH BUCKLER, ALEX SAVIUK, DON HECK, and others
cover by DICK GIORDANO
ON SALE 6/1/21
$39.99 US | $53.99 CAN | 280 PAGES | FC | DC
HARDCOVER
ISBN: 978-1-77950-967-3
Can the Fastest Man Alive outrun his worst nightmare?
The Flash can't outrun the loss of his wife, but nothing will stop him from hunting down her killer. Follow along as Barry Allen races to find out who is responsible for the death of his wife, Iris…and hold them responsible.
This title collects stories from The Flash #270-284.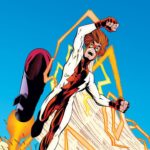 FLASH/IMPULSE: RUNS IN THE FAMILY TP
written by MARK WAID and MARTIN PASKO
art by HUMBERTO RAMOS, OSCAR JIMENEZ, and others
cover by HUMBERTO RAMOS and WAYNE FAUCHER
ON SALE 5/25/21
$34.99 US | $45.99 CAN | 376 PAGES | FC | DC
TRADE PAPERBACK
ISBN: 978-1-77950-948-2
Impulse, the Flash's hyperactive descendant from the 30th century, has landed in the present and is ready to make a superhero name for himself!
Due to his hyper-accelerated metabolism, Bart Allen was aging fast—like, really fast—and was raised in a 30th-century virtual reality simulation. So when he winds up in our era, he sees the world as one big video game—and he's got a lot to learn. Luckily, Bart has a mentor named Max Mercury, and if anyone's up to the task, it's the zen master of the Speed Force. In this collection, Bart adjusts to life in the 20th century, keeping the town of Manchester, Alabama, safe from threats like White Lightning and Gridlock. Also in this title, Savitar's machinations in the Speed Force cause Impulse, the Flash, and other super-speedsters to lose their speed!
This volume collects Impulse #1-12 and The Flash #108-111.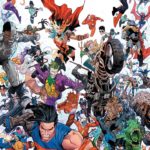 DARK NIGHTS: DEATH METAL: WAR OF THE MULTIVERSES TP
written by SCOTT SNYDER, JAMES TYNION IV, JOSHUA WILLIAMSON, MARK WAID, GAIL SIMONE, MARIKO TAMAKI, JEFF LEMIRE, CECIL CASTELLUCCI, CHRISTOPHER SEBELA, MAGDALENE VISAGGIO, KYLE HIGGINS, REGINE SAWYER, CHE GRAYSON, MARGUERITE BENNETT, MATTHEW ROSENBERG, and JUSTIN JORDAN
art by TRAVIS MOORE, FRANCIS MANAPUL, MEGHAN HETRICK, DANIEL SAMPERE, RAFAEL ALBUQUERQUE, MIRKA ANDOLFO, CHRISTOPHER MOONEYHAM, DEXTER SOY, SCOTT KOBLISH, PAUL PELLETIER, ALEX MALEEV, SCOTT KOLINS, ALITHA MARTINEZ, BRUNO REDONDO, INAKI MIRANDA, ROB GUILLORY, and MIKE HENDERSON
cover by DAN MORA
ON SALE 5/18/21
$19.99 US | $25.99 CAN | 176 PAGES | FC | DC
TRADE PAPERBACK
ISBN: 978-1-77951-006-8
As Earth has been taken over by the Dark Multiverse, the Justice League battles to survive! Stand with our heroes as they prepare for what may well be…the final fight of their lives.
What do the world's mightiest heroes feel right before combat? As the Dark Multiverse envelops the Earth unveil how the heroes prepare for war in what could be their last stand…if the Justice League knows anything, it's that heroes never go down without a fight!
Collects Dark Nights: Death Metal The Last 52: War of the Multiverses #1 and Dark Nights: Death Metal The Last Stories of the DC Universe #1.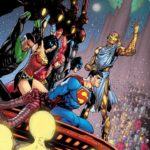 JUSTICE LEAGUE: GALAXY OF TERRORS TP
written by SI SPURRIER and JEFF LOVENESS
art by AARON LOPRESTI, ROBSON ROCHA, and others
cover by DOUG MAHNKE
ON SALE 5/18/21
$16.99 US | $22.99 CAN | 128 PAGES | FC | DC
TRADE PAPERBACK
ISBN: 978-1-77950-937-6
After answering a distress signal from distant space, Batman, Superman, Wonder Woman, the Flash, and Green Lantern discover an abandoned cargo ship full of young aliens! When the League attempts to return the children to their home planet, they are met with awe, terror, and war! Thus begins a new story line that will take the League to an unknown and war-torn planet, overrun with new species, a perilous mystery, and an otherworldly adversary. As the team faces off with different uncertainties and battles rogue factions, can the League save a population that hates and fears them? Or will it threaten any hope the Justice League has of returning home?
This title collects Justice League #48-52.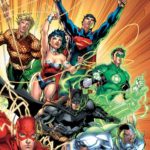 JUSTICE LEAGUE: THE NEW 52 OMNIBUS VOL. 1 HC
written by GEOFF JOHNS, JEFF LEMIRE, and others
art by JIM LEE, SCOTT WILLIAMS, GENE HA, GARY FRANK, TONY S. DANIEL, IVAN REIS, JESUS SAIZ, PETE WOODS, PAUL PELLETIER, MIKEL JANÍN, DOUG MAHNKE, DAVID FINCH, DANIEL SAMPERE, PATCH ZIRCHER, and others
cover by JIM LEE and SCOTT WILLIAMS
ON SALE 6/22/21
$125.00 US | $163.00 CAN | 1,248 PAGES
FC | DC | 7.0625″ x 10.875″
HARDCOVER | ISBN: 978-1-77951-066-2
In a world where superheroes operate under a cloud of suspicion from the public, loner vigilante Batman has stumbled upon a dark evil that threatens to destroy the Earth as we know it. Now, faced with a threat far beyond anything he can handle on his own, the Dark Knight must trust an alien, a Scarlet Speedster, an accidental teenage hero, a space cop, an Amazon warrior, and an undersea monarch. Will Superman, the Flash, Cyborg, Green Lantern, Wonder Woman, and Aquaman be able to put aside their differences and come together to save the world? Or will they destroy each other first?
This first of two omnibus editions collects Justice League #0-23; Aquaman #14-16; Justice League Dark #22-23; DC Comics — The New 52 FCBD Special Edition #1; Justice League of America #1-7; Trinity of Sin: The Phantom Stranger #11; Constantine #5; and Trinity of Sin: Pandora #1-3.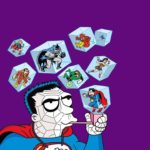 BIZARRO COMICS THE DELUXE EDITION HC
stories and art by various
cover by MATT GROENING
ON SALE 6/22/21
$49.99 US | $65.99 CAN | 432 PAGES
7.0625″ x 10.875″ | FC | DC
HARDCOVER
ISBN: 978-1-77951-012-9
Where else could the world's greatest alternative cartoonists run rampant through the DC Universe in utterly unhinged stories? Bizarro, an imperfect duplicate of Superman who does everything backward, tries drawing comics, concocting stories in which Wonder Woman participates in a poetry slam, baby Superman torments his baby-sitter…and that's just the start!
This deluxe edition collects the two anthology titles Bizarro Comics and Bizarro World, with a cover by the legendary creator of The Simpsons, Matt Groening! Includes stories and art by acclaimed creators including Kyle Baker, Jeff Smith, Ivan Brunetti, Paul Pope, Hunt Emerson, Carol Lay, Roger Langridge, Mark Crilley, Dave Cooper, Eddie Campbell, Tony Millionaire, James Kochalka, Harvey Pekar, Peter Bagge, and many more!
YOUNG JUSTICE BOOK 2: GROWING UP TP
written by GREG WEISMAN and KEVIN HOPPS
art by CHRISTOPHER JONES and LUCIANO VECCHIO
cover by CHRISTOPHER JONES
ON SALE 5/18/21
$24.99 US | $33.99 CAN | 272 PAGES | FC | DC
TRADE PAPERBACK
ISBN: 978-1-77950-924-6
In these stories inspired by the hit animated TV series Young Justice, Superboy, Robin, Kid Flash, Aqualad, Miss Martian, and Artemis make their way to Atlantis to foil Ocean-Master's plan to purify the underwater city. Then, the team must fight off the menace known as Kobra, as well as defeat an army of warrior gorillas in the dangerous Gorilla City!
Plus, the Young Justice team adds to its ranks in an effort to battle the impending invasion by the Collector of Worlds, and one of the DC Universe's favorite villains, Brainiac!
Collects Young Justice #14-25.
Share