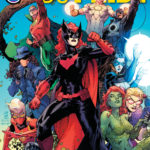 DC will be publishing an anthology called DC Pride #1 in June, and there will be some Flash-related stories included in the book. There will be a Jess Chambers story (the Flash of Earth-11, as seen in Future State: Justice League) by Danny Lore and Lisa Sterle, and a Pied Piper story by Sina Grace, Ro Stein, and Ted Brandt. The creators on the book are themselves LGBT.
You can find out more about the anthology at Deadline, including some of the other DC characters who'll be included. There will also be some Pride-themed variant covers for that month, although thus far it seems that none will feature any speedsters or people related to the Flash Family.
Check it out in June!
Share