DC has posted their full complement of solicitations for June 2021, and here are all the ones relating to the Flash. That month sees the debut of Infinite Frontier, the mini-series featuring Barry Allen amongst the group investigating the structure of the new Multiverse. Plus, Wally West's careening adventure through time comes to a close.
You can see the solicitations in full at CBR.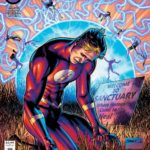 THE FLASH #771
written by Jeremy Adams
art by Brandon Peterson, Fernando Pasarin, Bryan Hitch and Scott Kolins, Kevin Maguire
cover by Brandon Peterson
card stock variant cover by Brett Booth
ON SALE 6/15/2021
$3.99 US | 32 PAGES | FC | DC
card stock variant cover $4.99 US| FC | DC
The Legion of Doom, Teen Titans Academy, Max Mercury's Wild West origins, and more! Wally West's leaps from speedster to speedster throughout time draws to a close as he begins to realize why he's been sent on his quest by the Speed Force and what might be behind it. But with one last stop before he's allowed to go home, will this journey break Wally forever or return him to glory?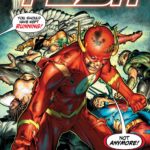 THE FLASH 2021 ANNUAL #1
written by Jeremy Adams
art by Brandon Peterson and Fernando Pasarin
cover by Brandon Peterson
card stock variant cover by Brett Booth
ON SALE 6/29/2021
$5.99 US | 48 PAGES | FC | DC
card stock variant cover $6.99 US | FC | DC
The lightning-fast and action-packed "Surge" story line races to its conclusion as Wally West returns to the present day with a new perspective on the past and a reinvigorated desire to take back the mantle of the Flash. With one last hurdle to leap, Wally puts the past behind him, but he'll need to propel himself further and faster than ever before to do it.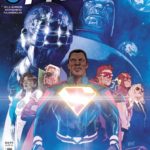 INFINITE FRONTIER #1
written by Joshua Williamson
art by Xermanico
cover by Mitch Gerads
card stock variant cover by Bryan Hitch
$4.99 US | 40 PAGES | 1 (OF 6) | FC | DC
DC ON SALE 6/22/2021
When our heroes saved the Multiverse from Perpetua in Dark Nights: Death Metal, everything was put back where it belonged…and we do mean everything. All the damage from all the Crises was undone, and heroes long thought gone returned from whatever exile they had been in. Most of them, at least. Alan Scott, the Green Lantern from the Justice Society of America, has noticed some of his allies are still missing in action, and he's determined to find them. There are others, though, who would rather remain hidden than explain themselves, like Roy Harper, a.k.a. Arsenal, a man who should be dead but now is not. Plus, what does all this mean for the DCU's place in the Multiverse? On opposite sides of a dimensional divide, both Barry Allen and President Superman ponder this question. Not to mention the Darkseid of it all! Or a team of Multiversal heroes called Justice Incarnate!
INFINITE FRONTIER: SECRET FILES #1
written by JOSHUA WILLIAMSON, BRANDON THOMAS, STEPHANIE PHILLIPS, and DAN WATTERS
art by INAKI MIRANDA, VALENTINE DE LANDRO, STEPHEN BYRNE, and more.
cover by BRYAN HITCH
ON SALE 6/29/2021
$9.99 US | 80 PAGES | Prestige | FC | DC
Are you ready for the new Infinite Frontier series? Do you have the lowdown on all the characters? If not, this print edition of the digital–first Secret Files series will tell you everything you're dying to know. Take a look inside Director Bones personal database for stories featuring Jade and Obsidian, the children of the original Green Lantern; Psycho–Pirate, the scourge of many a Crisis on many an Earth; President Superman, the Multiverse's ultimate beacon of hope; Roy Harper, back from the dead; and just who are the Totality…?! Featuring six stories in print for the very first time!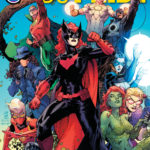 DC PRIDE #1
written by James Tynion IV, Mariko Tamaki, Steve Orlando, Vita Ayala, Nicole Maines, Danny Lore, Sam Johns, Sina Grace, and Andrew Wheeler
art by KLAUS JANSON, AMY REEDER, STEPHEN BYRNE, TRUNG LÊ NGUYEN, LUCIANO VECCHIO, LISA STERLE, RACHAEL STOTT, RO STEIN, TED BRANDT, SKYLAR PATRIDGE, AND MORE!
cover by Jim Lee, Scott Williams, and Tamra Bonvillain
Pride card stock variant cover by JEN BARTEL
ON SALE 6/8/2021
$9.99 US | 80 PAGES | Prestige | DC
DC celebrates Pride Month with nine all-new stories starring fan-favorite LGBTQIA+ characters Harley Quinn, Poison Ivy, Midnighter, Extraño, Batwoman, Aqualad, Alan Scott, Obsidian, Future State Flash, Renee Montoya, Pied Piper, and many more! This anthology will also feature:
—The thrilling introduction of new hero DREAMER in the DCU
(as seen on The CW's Supergirl)!
—A pinup gallery with art by Travis Moore, Kris Anka, Kevin Wada, Sophie Campbell, Nick Robles, and more!
—Six exciting new profiles of DCTV's LGBTQIA+ characters and the actors who play them!
TEEN TITANS ACADEMY #4
written by Tim Sheridan
art by Steve Lieber
cover by Rafa Sandoval
variant cover by Philip Tan
Pride card stock variant cover by
ON SALE 6/22/2021
$3.99 US | 32 PAGES | FC | DC
card stock variant cover $4.99 US | FC | DC
Who is RED X? The students of Titans Academy want to know, and they want to know NOW! After the infiltration of the school by the Suicide Squad, three unlikely students launch their own investigation into the mysterious figure's true identity and motivation. What they find is shocking and surprising, if any of it is actually true!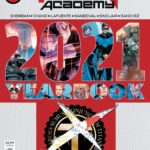 TEEN TITANS ACADEMY 2021 YEARBOOK #1
written by Tim Sheridan
art by Bernard Chang, David LaFuente, and Rafa Sandoval
cover by Rafa Sandoval and Alejandro Sanchez, Jamal Campbell with design by Steve Blackwell
card stock variant cover by Rafa Sandoval
ON SALE 6/29/2021
$5.99 US | 48 PAGES | FC | DC
card stock variant cover $6.99 US| FC | DC
As the first quarter of classes draws to an end at Teen Titans Academy, get a closer look at the how students such as the mysterious Stitch enrolled, catch up with the status of Beast Boy and Raven's relationship, and maybe, just maybe, get some clues on the origin of the new Red X!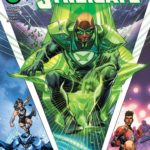 CRIME SYNDICATE #4
written by Andy Schmidt
art by Kieran McKeown, Dexter Vines, AND Bryan Hitch
cover by Howard Porter
card stock variant cover by Khary Randolph
ON SALE 6/1/2021
$3.99 US | 32 PAGES | FC | DC
card stock variant cover $4.99 US | FC | DC
The world has been saved by the…Crime Syndicate?! With the Starro invaders vanquished, what's next for Earth-3's most notorious saviors? Can loose cannons Emerald Knight, Quick, and Atomica keep their cool? Will Ultraman accept Superwoman and Owlman's tantalizing offer? And what is Alexander Luthor plotting as all these metahuman menaces run amok?
Here's the REAL question of the month: Which heroes will join the LEGION OF JUSTICE?
In this issue's backup story, witness the origin of the Emerald Knight, illustrated by superstar artist Bryan Hitch!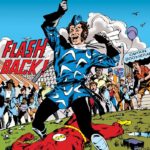 THE SUICIDE SQUAD CASE FILES 2 TP
written by John Ostrander, Paul Dini, Alan Grant, Dan Jurgens, Len Wein, Gail Simone, and more!
art by Ed Benes, Dave Gibbons, Dan Jurgens, Luke McDonnell, Norm Breyfogle, and more!
ON SALE 7/27/2021
$19.99 US | 224 PAGES | FC | DC
6 5/8′ x 10 3/16′
ISBN: 9781779511560
James Gunn's The Suicide Squad film gathers the weirdest and wildest cast of characters in superhero movie history—from Squad veterans like Harley Quinn and Captain Boomerang to the downright peculiar Savant and the Javelin, and more. Discover the legacy of the film's eclectic characters in this second of two collections featuring their stories from throughout DC history!
The Suicide Squad Case Files 2 features debuts and key appearances of Captain Boomerang, Rick Flag, the Ratcatcher, Savant, Javelin, Blackguard, and Harley Quinn, the Mistress of Mayhem herself. This volume collects their stories from Batman: Harley Quinn #1, Birds of Prey #58, Booster Gold #1, Detective Comics #585, Green Lantern #174, Secret Origins #14, and Suicide Squad #44.
FUTURE STATE: SUICIDE SQUAD TP
written by Robbie Thompson, Jeremy Adams, Tim Sheridan, and Ram V
art by Javier Fernandez, Fernando Pasarin, Rafa Sandoval, Eduardo Pansica, and Mike Perkins
cover by Javier Fernandez
ON SALE 7/13/2021
$19.99 US | 240 PAGES | FC | DC
6 5/8′ x 10 3/16′
ISBN: 9781779510723
A glimpse into the possible future of the DC Universe reveals stories filled with dark turns, darker actions, and dark possibilities for heroes and villains alike.
The future of the Suicide Squad sees the clandestine team hunting its former leader—Amanda Waller—on Earth-3. The once young and optimistic Teen Titans face some of the former students of Titans Academy as they team with Red X for one last chance at redemption. Picking up on those events, Shazam hides a mysterious secret he's held since his time at Titans Academy, while trying to undo a literal deal with the devil. Even further in the future, the world sits cold and dead with few survivors braving its barren wastelands. Can a new Swamp Thing help humanity regain a foothold, or will it extinguish the last flames of hope?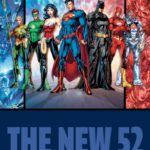 THE NEW 52: 10th ANNIVERSARY DELUXE EDITION HC
written by Grant Morrison, Geoff Johns, Jeff Lemire, Brian Azzarello, Scott Snyder, and more!
art by Rags Morales, Jim Lee, Travis Foreman, Cliff Chiang, Greg Capullo, and more!
cover by Jim Lee and Scott Williams
ON SALE 8/10/2021
$29.99 US | 400 PAGES | FC | DC
7 1/16′ x 10 7/8′
ISBN: 9781779510310
In 2011 DC made its boldest move in 25 years with the announcement of the New 52–reinventing its fictional universe from the ground up, and restarting its publishing line with 52 new and relaunched series, each starting with a fresh #1.
Ten years later, DC returns to that exciting era with a new Deluxe Edition collection of the New 52's greatest first issues.
This collection showcases the breadth of the New 52's creative diversity, including Geoff Johns and Jim Lee's new origin for the Justice League, the start of Scott Snyder and Greg Capullo's storied run on Batman, the intense mythological drama of Brian Azzarello and Cliff Chiang's Wonder Woman, Grant Morrison and Rags Morales taking Superman back to his roots, and the unpredictable body horror of Jeff Lemire and Travel Foreman's Animal Man.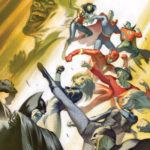 INJUSTICE: YEAR ZERO HC THE COMPLETE COLLECTION
written by TOM TAYLOR
art by Rogê Antônio and CIAN TORMEY
cover by JULIAN TOTINO TEDESCO
ON SALE 7/13/2021
$24.99 US | 152 pages | FC | DC
6 5/8′ x 10 3/16′
ISBN: 9781779511294
The beloved, fan-favorite series Injustice is back! And this time, with a prequel…Year Zero: "The Fall of the Old Gods"! Long before Superman had his tyranny, before Batman led the Insurgency, and even before the Justice League was still a just league—there was the JSA. A secret begins to unravel within the JSA about how one of them controversially used a mysterious amulet in back in WWII to help turn the tide of the war. Flash forward to the present, when this secret amulet is found in the hands of The Joker, and the Justice League and JSA suddenly find their teams being torn apart from the inside—is there a traitor in the room, or is someone hiding something that could ruin every DCU superhero forever? Either way, buckle up, because in true Injustice tradition, no one is safe and both heroes and villains will die!
Collects Injustice: Year Zero chapters 1-14.
Share