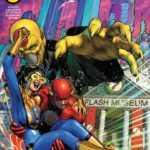 DC has posted four preview pages from this week's Flash issue, and you can see them at Comic Watch. The preview finds Wally now inhabiting the body of Bart Allen in the future, and he's teamed up by necessity with the new hero Gold Beetle (first seen in Future State). Check it out at the link!
THE FLASH #769
written by JEREMY ADAMS
art by DAVID LaFUENTE and BRANDON PETERSON
cover by BRANDON PETERSON
card stock variant cover by ZI XU
ON SALE 4/20/21
$3.99 US | 32 PAGES | FC | DC
CARD STOCK VARIANT COVER $4.99 US
After an accident pushes Wally West into the time stream, the former Kid Flash lands in the body of his onetime partner, Impulse. Now sprinting through the 30th century side by side with the mysterious (and, yeah, ridiculous) Gold Beetle, Wally must uncover what's causing the destructive explosions that keep propelling him through time and the bodies of other speedsters.
Share