DC has posted the full complement of solicitations for August 2021, and here are all the ones relating to the Flash. That month sees Wally continuing to tangle with Heat Wave, while Barry is still off on adventures exploring the new Omniverse in Infinite Frontier. And Lia Nelson is the Flash working with Superman and the Authority in the book of the same title.
You can see the solicits in their entirety at CBR.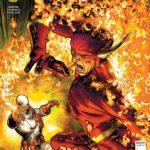 THE FLASH #773
story by JEREMY ADAMS
art by WILL CONRAD
cover by BRANDON PETERSON
ON SALE 8/17/21
$3.99 US | 32 PAGES | FC | DC
card stock variant by JORGE CORONA
US $4.99
Suicide Squad Movie card stock variant by ALAN QUAH
US $4.99
On the loose and bent on destruction, Heatwave's return couldn't come at a worse time for Wally West. Now that the onetime Kid Flash has retaken the mantle of the Fastest Man Alive, he's also taken a new job at Mr. Terrific's Holt Industries. But all of that gets put on the back burner, when the Flash must outrace the flames of one of his greatest foes and figure out why the once-reformed rogue has gone bad again.
INFINITE FRONTIER #5
story by JOSHUA WILLIAMSON
art by: XERMANICO, PAUL PELLETIER, & JESUS MERINO
cover by: MITCH GERADS
ON SALE 8/24/21
$4.99 US | 40 PAGES | FC | DC 5 of 6
card stock variant by BRYAN HITCH | $5.99
Suicide Squad Movie Variant by JOHN K. SNYDER III | $5.99
Roy Harper finds himself forced to do things on his own. He's been through a lot since he was Green Arrow's sidekick, and usually, the only person he can count on is himself. Hence, he's hiding the fact that he's back from the dead from his old friends. He comes across Jade, who has also been stranded by herself—can he help her while letting her help him? Because neither of them can handle Darkseid all by their lonesome.
Meanwhile, Barry Allen sends out a call: it's time for all the heroes exploring the Infinite Frontier to come to the Omega Planet!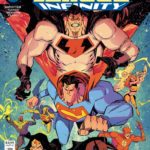 JUSTICE LEAGUE INFINITY #2
story by J.M. DEMATTEIS AND JAMES TUCKER
pencils by ETHEN BEAVERS
inks by ETHEN BEAVERS
cover by JORGE CORONA
Price: US $3.99 pages: 32
FC|DC On Sale Date: 8/3/21
2 of 7
Across the globe people begin disappearing, replaced with different but similar individuals. So where is Superman and who is this new monstrous Overman?! In order to get to the bottom of what's happening, the Justice League will need to first take down the new villain! And what horrors are revealed in the twisted mirror room?!
JUSTICE LEAGUE: LAST RIDE #4
story by CHIP ZDARSKY
pencils by MIGUEL MENDONÇA
inks by MIGUEL MENDONÇA
cover by DARICK ROBERTSON
Price: US $3.99 pages: 32
FC|DC On Sale Date: 8/10/21
4 of 7
CARD STOCK OPEN ORDER Variant by TIAGO DA SILVA Price: US $4.99
The Justice League disbanded when their last mission went terribly wrong, and Martian Manhunter paid the ultimate price. But the team learns that time is a circle, and their last mission on Apokolips holds more than just the key to protecting a war criminal and completing their mission, it tells the story of how we lost J'onn…and why Superman holds Batman responsible!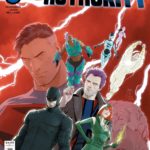 SUPERMAN AND THE AUTHORITY #2
story by GRANT MORRISON
art & cover by MIKEL JANIN
ON SALE 8/3/21
$4.99 US | 40 PAGES | FC | DC
variant by TREVOR HAIRSINE
2 of 4
Clark Kent and Manchester Black continue to put Superman's new team together, even though keeping Black in check seems like just as difficult a job as convincing the new recruits to come along. The pair hits different parts of the world looking for different types of heroes. While Midnighter, Apollo, and Natasha Irons only need to tie up some loose ends before getting on board, the Enchantress is going to be a little harder. Superman is going to have to set her free from a deadly illusion hell-bent on destroying her before she can help him save the universe.
SUPERMAN AND THE AUTHORITY #3
story by GRANT MORRISON
art & cover by MIKEL JANIN
ON SALE 8/17/21
$4.99 US | 40 PAGES | FC | DC
variant by SIMON BISLEY
3 of 4
Superman put the Authority back together, but why? What threat is out there that only this group can contend with? The Ultra-Humanite, of course! This fearsome foe is forming a team of his own, one designed to go fist-to-fist with the Authority. It will be their baptism in battle to prove if Superman is right that regardless of who we are, there is a hero lurking inside even the worst of us.
This penultimate issue is an important chapter in the new Superman mythos, helping to set up where Clark Kent goes next…and who he goes there with.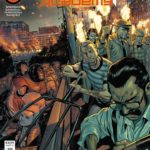 TEEN TITANS ACADEMY #6
story by TIM SHERIDAN
art by RAFA SANDOVAL
cover by RAFA SANDOVAL
ON SALE 8/24/21
$3.99 US | 32 PAGES | FC | DC
card stock variant by STEVE LIEBER
$4.99 US
When an entire town in upstate New York turns on the students of Teen Titans Academy, while the adult Titans are on a mission, Gorilla Greg, Chupacabra, and the other new students find themselves fighting for their lives against a chaotic mob. But is there something driving the town's madness more than just intolerance?
CRIME SYNDICATE #6
written by ANDY SCHMIDT
pencils by KIERAN MCKEOWN AND BRYAN HITCH
inks by DEXTER VINES AND BRYAN HITCH
cover by HOWARD PORTER
ON SALE 8/3/21
$3.99 US | 32 PAGES | FC | DC
6 of 6
Card stock variant cover by EVAN "DOC" SHANER US $4.99
Look, up in the sky! It's a bird! It's a plane! It's…Ultragirl? That's right, folks, Kara Zor-El of Earth-3 arrives, and it's far from a happy family reunion! Can Ultraman take his cousin down and reclaim his place as the true last survivor of Krypton? Meanwhile, on a hidden island in the Pacific, Emerald Knight must finally decide: Will he stand with the Legion of Justice? Or will he give in to the Crime Syndicate?
Don't miss out on the shocking finale that shakes Earth-3 to its core!
Share