DC has posted the full complement of solicitations for September 2021, and here are all the ones relating to the Flash. That month sees the debut of a new villain in the solo Flash book, plus the adventures of other members of the Flash Family in various titles.
You can see the solicitations in their entirety at CBR.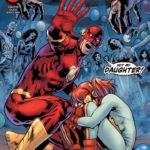 THE FLASH #774
Writer: JEREMY ADAMS
Artist: CHRISTIAN DUCE
Cover: BRYAN HITCH
Variant Cover: JORGE CORONA
$3.99 US | 32 PGS | $4.99 US VARIANT (Card Stock)
ON SALE 9/21//21
Introducing Dr. Nightmare!
Bad dreams come to life and lead to chaos on the streets of Central City on the same night the Fastest Man Alive attends a daddy/daughter dance. Side-by-side with his super-powered daughter, Wally must not slow down, or they risk falling victim to the man named Dr. Nightmare.
INFINITE FRONTIER #6
Writer: JOSHUA WILLIAMSON
Artist: XERMANICO
Cover: MITCH GERADS
Variant Covers: BRYAN HITCH
$4.99 | 40 PGS | 6 of 6 | $5.99 US VARIANT (Card Stock)
ON SALE 9/7/21
One story ends and the next phase of the DC Multiverse begins. We have one name for you: DARKSEID.
Our heroes knew that someone had been pulling the strings this entire time, but are they prepared for it to be the biggest bad of all? As President Superman, Alan Scott, Roy Harper, and the rest converge for a showdown, the secret of Omega Planet is revealed. Plus, Barry Allen is put on a path he may never get off!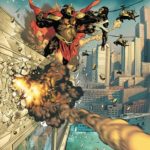 TEEN TITANS ACADEMY #7
Writer: TIM SHERIDAN
Artist: RAFA SANDOVAL
Cover: RAFA SANDOVAL
Variant Cover: STEVE LIEBER
$3.99 US | 32 PGS | $4.99 US VARIANT (Card Stock)
ON SALE 9/28//21
Gorilla Grodd vs. Gorilla Gregg!
A fun, light outing to upstate New York for the students of Titans Academy becomes a nightmare when an entire town turns on them. But as Gorilla City expat Gorilla Gregg fights to save his friends, the young primate discovers, the threat leads him to his own uncle—Gorilla Grodd.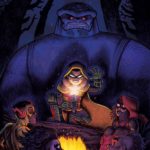 ARE YOU AFRAID OF DARKSEID? #1
Story by ELLIOTT KALAN, COLLIN KELLY, JACKSON LANZING, JEREMY HAUN, KENNY PORTER, CALVIN KASULKE, TERRY BLAS, ED BRISSON, and more
Pencils and Inks by MAX DUNBAR, MIKE NORTON, JESÚS HERVÁS, CHRIS MITTEN, GARRY BROWN, and more
Cover by DAN HIPP
Variant cover by TK
$9.99 US | 80 PAGESs | ONE-SHOT | PRESTIGE FORMAT
ON SALE 10/5/21
Gather 'round the fire, fellow campers, because it's time for that most terrifying of traditions—campfire stories so scary you'll never sleep without a night-light again! The Teen Titans guide those brave enough through tales of Batman and the hidden killer, Superman and Lois Lane and the killer in their back seat, Harley Quinn and Darkseid versus a furious Bloody Mary, and four more stories so hair-raising you'll call your momma to come pick you up. So toast your marshmallows, pull up a s'more, and answer the only question that matters this Halloween: Are you afraid of Darkseid?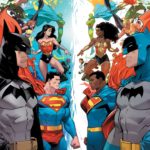 JUSTICE LEAGUE INFINITY #3
Writers : J.M. DeMATTEIS and JAMES TUCKER
Artist: ETHEN BEAVERS
Cover: DAN MORA
$3.99 US | 32 PGS | 3 of 7
ON SALE 9/7/21
As the worlds continue to bleed in and out of each other, the Justice League looks to the cosmos to learn how to stop the chaos that's been wrought. Meanwhile, Superman's journey through the Multiverse brings him face to face with another Man of Steel, but is this one friend or foe?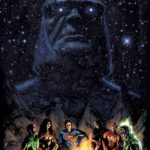 JUSTICE LEAGUE: LAST RIDE #5
Writer: CHIP ZDARSKY
Artist: MIGUEL MENDONÇA
Cover: DARICK ROBERTSON
Variant Cover: DIKE RUAN
$3.99 US | 32 PGS | 5 of 7 | $4.99 US VARIANT (Card Stock)
ON SALE 9/14/21
APOKOLIPS—NOT AS SAFE A PLACE TO HIDE A WAR CRIMINAL AS YOU'D THINK!
The Justice League has been tasked with bringing the master of war crimes, your one and only Lobo, to trial in order to account for a life of treachery. But while the League thought Apokolips would be the safest place to store a wanted murderer, there are others out on the hunt for Lobo…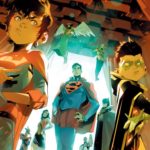 CHALLENGE OF THE SUPER SONS #6
Writer: PETER J. TOMASI
Artist: EVAN STANLEY
Cover: SIMONE DI MEO
Variant Cover: NICK BRADSHAW
$3.99 US | 32 PGS | 6 of 7 | $4.99 US VARIANT (Card Stock)
ON SALE 9/14/21
The Super Sons were trapped in the past by Felix Faust and Vandal Savage so they could unlock the secrets of the future. A young sorceress named Rora has teamed up with Superboy and Robin to get them back to their own time—if they can overcome their über-magical captors!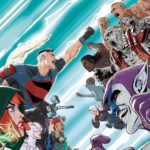 SUPERMAN AND THE AUTHORITY #4
Writer: GRANT MORRISON
Artist: MIKEL JANÍN
Cover: MIKEL JANÍN
Variant Cover: GENE HA
$4.99 US | 40 PGS | 4 of 4 | $4.99 US VARIANT (Card Stock)
ON SALE 9/7//21
Is the team ready for what's next?
Will the Man of Steel's new super-group fall apart before they even begin? The Ultra-Humanite has put together his own team of rogues designed to match the Authority fist for fist. This series comes to an explosive conclusion that will threaten to split the Man of Steel in half!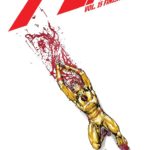 THE FLASH VOL. 15: FINISH LINE
Writer: JOSHUA WILLIAMSON
Artists: HOWARD PORTER, RAFA SANDOVAL, CHRISTIAN DUCE, and SCOTT KOLINS
Cover: HOWARD PORTER
$16.99 | 160 PGS | 6 5/8″ x 10 3/16″ | Softcover
ISBN: 978-1-77951-316-8
ON SALE 10/12//21
Forming a Legion of Zoom—including Captain Cold, the Turtle, Gorilla Grodd, and the Trickster—the Reverse-Flash sets out to not only beat Barry Allen, but also assume his life! Can the Fastest Man Alive keep up with the attacks around Central City, when everyone and everything he loves is in danger? With his greatest enemy calling on Barry's children from the future, the Tornado Twins, the Flash Family steps up to help the hero as he faces his biggest battle ever.
Share