DC has posted their full complement of solicitations for November 2021, and here are all the ones relating to the Flash. It's another Batbooks-heavy month, but introduces a new series called Justice League Incarnate which will feature Avery Ho, the Flash of China, amongst its cast. Plus, Wally West has a very old-school type of meta adventure with Doctor Fate in his solo series.
You can see the solicitations in their entirety at CBR.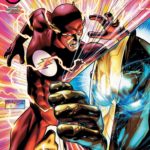 THE FLASH #776
Written by JEREMY ADAMS
Art by FERNANDO PASARIN
Cover by BRANDON PETERSON
Variant cover by JORGE CORONA and IVAN PLASCENCIA
$3.99 US | 32 PGS | $4.99 US VARIANT (Card stock)
ON SALE 11/16/21
Doctor Fate arrives to whisk the Flash away to the IN-BETWEEN, a two-dimensional causeway filled with demonic forces. Now it's up to YOU, the reader, to help the Scarlet Speedster make his way through the dangerous dimension toward his final destination and the beginning of a brand-new adventure!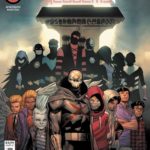 TEEN TITANS ACADEMY #9
Written by TIM SHERIDAN
Art by MIKE NORTON
Cover by RAFA SANDOVAL
Variant cover by PHILIP TAN
$3.99 US | 32 PGS | $4.99 US Variant (Card stock)
ON SALE 11/23/21
Homecoming continues! Homecoming is a time for reunion and reflection, and the shocking news that Roy is alive has left the Titans—and the Flash—with plenty to reflect upon. As old wounds are ripped open, the Academy's very existence is called into question, leaving the futures of its vulnerable young students up in the air and exposing them to the fury of an old foe out for vengeance!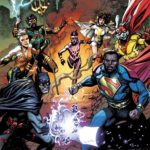 JUSTICE LEAGUE INCARNATE #1
Written by JOSHUA WILLIAMSON
and DENNIS CULVER
Art by ANDREI BRESSAN
and BRANDON PETERSON
Cover by GARY FRANK
$4.99 US | 40 PAGES | 1 of 5
Variant by JORGE FORNÉS
$5.99 US (Card stock)
ON SALE 11/2/21
After the shocking ending of Infinite Frontier, Justice League Incarnate defends the Multiverse from Darkseid across infinite Earths!
Following a devastating defeat at the hands of the one true Darkseid, the Superman of Earth-23 leads a team of superheroes from myriad worlds that includes Flashpoint Batman, China's Flash from Earth-0, Captain Carrot from Earth-26, and the brand new superhero DR. MULTIVERSE from Earth-8 in a last ditch effort to stop the end of every possible universe as we know it!
Written by Joshua Williamson and Dennis Culver with first-issue art by Brandon Peterson and Andrei Berssan and a rotating cast of artists exploring the many different worlds of the DC Multiverse, this can't-miss series is the next thrilling chapter in the Infinite Frontier saga!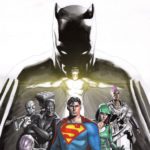 BATMAN/SUPERMAN: AUTHORITY SPECIAL #1
Written by PHILLIP KENNEDY JOHNSON
Art by TREVOR HAIRSINE, JONATHAN GLAPION,
and BEN TEMPLESMITH
Cover by RODOLFO MIGLIARI
$5.99 US | 48 PAGES
Variant cover by JEEHYUNG LEE
$6.99 US (Card stock)
ON SALE 11/2/21
Following Mongul's brazen attack on Earth, Superman's world has been turned upside down: conflict between Atlantis and the surface world, the discovery of an immensely powerful new element, dead refugees with mysterious ties to Krypton, and expulsion from the Justice League! When Superman re-forms the experimental, antiestablishment Authority to join him in liberating Warworld, Batman comes to them with a request: join him for one unorthodox, off-the-books mission first, one he could never ask the Justice League to be a part of…and one he doesn't expect everyone to come back from.
JUSTICE LEAGUE: LAST RIDE #7
Written by CHIP ZDARSKY
Art by MIGUEL MENDONÇA
Cover by DARICK ROBERTSON
Variant cover by CHIP ZDARSKY
$3.99 US | 32 PGS | 7 of 7 | $4.99 US Variant (Card stock)
ON SALE 11/9/21
IT'S ALL BEEN BUILDING TO THIS—past and present and future all collide here in the final issue of this monumental series. Everything connects back to J'onn's death, Batman's final decision, and Superman's regret—it all has been leading to this final confrontation with Darkseid. Who lives (some do!)? Who dies (some do!)? It all culminates in a bombastic finale from which the Justice League will emerge eternally changed.
'TIS THE SEASON TO BE FREEZIN'
Written by ANDREW WHEELER, RICH BERNATOVECH, TEE FRANKLIN, TARA ROBERTS, PAUL DINI, ALAN BURNETT, BOBBY MOYNIHAN, and others
Art by MEGHAN HETRICK, TRAVIS MERCER, YANCEY LABAT, and others
Cover by JEN BARTEL
Variant by POP MHAN
$9.99 US | 80 PAGES | PRESTIGE
ON SALE 12/14/21
Oh the weather outside is freezing, but these stories sure are pleasin'. So since you've no place to go, why not grab a sweater, pour a cup of hot cocoa, and stoke the fire…because these 10 tales are sure to lower the mercury! Join us as Harley Quinn and Blue Snowman ice out Hawkman, Batman fights the cold heart of Mr. Freeze, the JLQ don't stand a snowball's chance against Minister Blizzard, and the Flash and Superman team up to chill out Captain Cold. So warm your holiday heart with these freezin' feats of frosty fiction!
JUSTICE LEAGUE INFINITY #5
Written by J.M. DEMATTEIS and JAMES TUCKER
Art by ETHEN BEAVERS
Cover by MEGHAN HETRICK
$3.99 US | 32 PGS | 5 of 7
ON SALE 11/2/21
Superman, trapped on Earth-X, teams up with the Freedom Fighters to help them liberate the world from Vandal Savage's control. Thanks to the added power of the newly arrived Superman-D, the Freedom Fighters might just have what it takes to break into Savage's stronghold. But what secrets has the immortal tyrant hidden within its walls?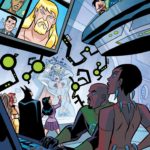 JUSTICE LEAGUE INFINITY #6
Written by J.M. DEMATTEIS and JAMES TUCKER
Art by ETHEN BEAVERS
Cover by JAMES STOKOE
$3.99 US | 32 PGS | 6 of 7
ON SALE 12/7/21
Both Justice Leagues arrive at the nexus of all realities, the Mirrored Room. Though they had hoped to find their old friend Amazo, what the League finds left behind in the ruins of the shattered mirrors is a far cry from the sentient android!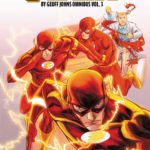 THE FLASH BY GEOFF JOHNS OMNIBUS VOL. 3
Written by GEOFF JOHNS and STERLING GATES
Art by SCOTT KOLINS, FRANCIS MANAPUL, ETHAN VAN SCIVER, and others
Cover by FRANCIS MANAPUL
$99.99 US | 880 PGS | 7 1/16″ x 10 7/8″ | Hardcover
ISBN: 978-1-77951-345-8
ON SALE 1/25/22
Barry Allen returns from the dead to reclaim the title of Fastest Man Alive in this massive hardcover! Collects stories from Final Crisis: Rogues' Revenge #1-3; The Flash: Rebirth #1-6; The Flash (2010) #1-12; Blackest Night: The Flash #1-3; The Flash Secret Files and Origins 2010 #1; and Flashpoint #1-5.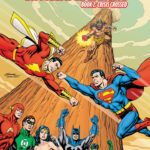 CRISIS ON MULTIPLE EARTHS BOOK 2: CRISIS CROSSED
Written by LEN WEIN, CARY BATES, E. NELSON BRIDWELL, PAUL LEVITZ, and others
Art by DICK DILLIN, FRANK McLAUGHLIN, JOE GIELLA, and DICK GIORDANO
Cover by KERRY GAMMILL
$39.99 US | 424 PGS | 6 5/8″ x 10 3/16″ | Softcover
ISBN: 978-1-77951-342-7
ON SALE 1/11/22
The incredible crossover events between the Justice League of America and the Justice Society of America that launched the DC Multiverse as we know it! This second of three volumes collects stories from Justice League of America #91-92, 100-102, 107-108, 113, 123-124, 135-137, 147-148, and 159-160.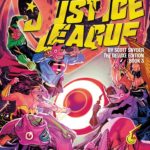 JUSTICE LEAGUE BY SCOTT SNYDER DELUXE EDITION BOOK THREE
Written by SCOTT SNYDER and JAMES TYNION IV
Art by JORGE JIMENEZ, BRUNO REDONDO, JAVIER FERNANDEZ, and others
Cover by FRANCIS MANAPUL
$39.99 US | 344 PGS | 7 1/16″ x 10 7/8″ | Hardcover
ISBN: 978-1-77951-493-6
ON SALE 2/8/22
It's the culmination of the Legion of Doom's master plan, and some may not survive. The Justice League must race through the past, present, and future to gather pieces of the Totality if they want to stop Lex Luthor's team from unleashing Perpetua on the Multiverse. Collects Justice League #26-39.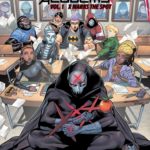 TEEN TITANS ACADEMY VOL. 1: X MARKS THE SPOT
Written by TIM SHERIDAN
Art by RAFA SANDOVAL, STEVE LIEBER, and MAX RAYNOR
Cover by RAFA SANDOVAL
$29.99 US | 208 PGS | 6 5/8″ x 10 3/16″ | Hardcover
ISBN: 978-1-77951-281-9
ON SALE 1/4/22
Packed with both new super-powered teens and numerous dark secrets, Teen Titans Academy's student body includes Shazam; a new Australian speedster; a trio of Goth(am) teen expatriates obsessed with Batman—and one member of this first class will become the deadly Red X.
Share