DC has posted their full complement of solicitations for June 2022, and here are all the ones relating to the Flash. That month sees the beginning of Dark Crisis, a crossover event in which Bart Allen will appear and the solo Flash book will have a tie-in. Plus, the Black Label Rogues series comes to a bloody conclusion.
You can see the solicitations in full at CBR.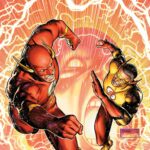 THE FLASH #783
Written by JEREMY ADAMS
Art by AMANCAY NAHUELPAN
Cover by BRANDON PETERSON and MICHAEL ATIYEH
Variant cover by BENGAL
$3.99 US | 32 pages | Variant $4.99 US (card stock)
ON SALE 6/21/22
A Dark Crisis tie-in: the search for Barry Allen! With the Justice League gone, Wally gathers the entire Flash Family in a desperate attempt to search the Speed Force and finally locate the missing Barry Allen. But does Barry want to be found? This three-issue story ties directly into this summer's event. Dark Crisis continues here!
DARK CRISIS #1
Written by JOSHUA WILLIAMSON
Art and cover by DANIEL SAMPERE
Variant covers by JAMAL CAMPBELL, INHYUK LEE,
GREG CAPULLO, JONATHAN GLAPION, and BRUNO REDONDO
1:25 variant cover by DAN SCHOENING
1:50 variant cover by STEVE BEACH
1:100 foil variant cover by GREG CAPULLO and
JONATHAN GLAPION
Team variant cover by MAHMUD ASRAR
$5.99 US | 40 pages | 1 of 7 | Variant $6.99 US (card stock)
ON SALE 6/7/22
Crisis on Infinite Earths. Infinite Crisis. Final Crisis.
And now…Dark Crisis!
The epic event years in the making is finally here! Superman, Batman, Wonder Woman, and the rest of the Justice League are dead. The remaining heroes are left to protect the world from an onslaught of violent attacks by DC's greatest villains! Can the legacy heroes step out of the shadows of the classic heroes to form a new Justice League? And will that be enough to stop a darkness greater than anything they've ever faced from destroying everything?
Don't miss out on the first issue of the blockbuster event of the summer!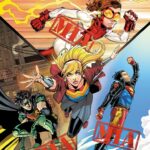 DARK CRISIS: YOUNG JUSTICE #1
Written by MEGHAN FITZMARTIN
Art by LAURA BRAGA
Cover by MAX DUNBAR
Variant cover by TODD NAUCK
$3.99 US | 32 pages | 1 of 6 | Variant $4.99 US (card stock)
ON SALE 6/21/22
Crises have always had devastating impacts on the generation of heroes that make up Young Justice, and Dark Crisis will hit them even harder. Tim Drake, Impulse, and Superboy go missing during the Justice League's funeral. The only person concerned enough to find them? Cassie Sandsmark, a.k.a Wonder Girl. But…the three boys of Young Justice aren't on this Earth anymore…they're on the world of their dreams, one they may never want to leave!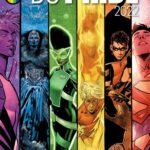 DC PRIDE 2022 #1
Written by DEVIN GRAYSON, STEPHANIE WILLIAMS,
TRAVIS G. MOORE, ALYSSA WONG, and others
Art by NICK ROBLES, BRITTNEY WILLIAMS,
EVAN CAGLE, W. SCOTT FORBES, and others
Cover by PHIL JIMENEZ
Wraparound variant cover by JOSHUA "SWAY" SWABY
1:25 foil variant cover by JEN BARTEL
$9.99 US | 104 pages | One-shot | Prestige Format
ON SALE 5/31/22
DC's 2022 celebration kicks off with more stories, more characters, and more pride than ever before! This anthology features 13 all-new stories spotlighting LGBTQIA+ fan-favorites new and old including Superman (Jon Kent), Nubia, Tim Drake, Kid Quick, Aquaman (Jackson Hyde), Green Lantern (Jo Mullein), Alysia Yeoh, the Ray, Harley Quinn, Poison Ivy, Batwoman, and more! This special also includes:
A Multiversity: Teen Justice kickoff story spotlighting Kid Quick and written by the miniseries team, Danny Lore and Ivan Cohen!
An introduction by activist, actress, and real-life superhero Nicole Maines that will include a teaser for her upcoming Dreamer project!
Pinups by P. Craig Russell, J.J. Kirby, and more!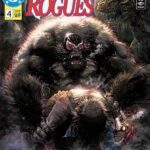 ROGUES #4
Written by JOSHUA WILLIAMSON
Art by LEOMACS
Cover by SAM WOLFE CONNELLY
Variant cover by KAARE ANDREWS
1:25 variant cover by LEOMACS
$6.99 US | 48 pages | 4 of 4 | Prestige Plus | 8 1/2″ x 10 7/8″
ON SALE 6/28/22
17+
Gorilla City blues! All the Rogues wanted was a better life for themselves. But that's all over thanks to all their greed and backstabbing. Those still left alive are busted up with their backs against the wall, and Grodd's forces are closing in. With no heroes racing to save them, they must make a deadly deal with Gorilla Grodd to survive.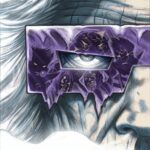 FLASHPOINT BEYOND #5
Written by GEOFF JOHNS, TIM SHERIDAN, and JEREMY ADAMS
Art by XERMÁNICO
Cover by MITCH GERADS
Variant cover by XERMÁNICO
1:25 ratio variant cover by SCOTT KOLINS
$3.99 US | 32 pages | 5 of 6 | Variant $4.99 US (card stock)
ON SALE 6/28/22
The Clockwork Killer's identity is finally revealed as the dust settles after the showdown at Arkham Asylum. But as we learn the truth behind how the Clockwork Killer came to be, Thomas is faced with a reality-altering choice!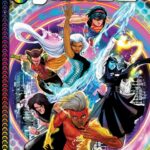 MULTIVERSITY: TEEN JUSTICE #1
Written by IVAN COHEN and DANNY LORE
Art by MARCO FAILLA
Cover by ROBBI RODRIGUEZ
Variant cover by STEPHANIE HANS
1:25 variant cover by BENGAL
1:50 variant cover by MARCO FAILLA
PRIDE variant cover by STEPHEN BYRNE
Blank sketch variant cover
$3.99 US | 32 pages | 1 of 6 | Variant $4.99 US (card stock)
ON SALE 6/7/22
Kid Quick—the Future State Flash—and their fellow heroes Supergirl, Robin, Aquagirl, Klarienne the Witch Girl, and Troy take center stage in a miniseries that rocks Earth-11 to its core! Co-writers Ivan Cohen (The Batman & Scooby-Doo Mysteries) and Danny Lore (DC Pride, Champions) join rising-star artist Marco Failla (DCeased: Hope at World's End) for the incredible debut issue, which begins with an attack by the H.I.V.E. and ends in the Church of Blood! What is Sister Blood's true mission among the lost souls of New York City? Can Teen Justice get through their growing pains fast enough to learn the answer in time to stop it? And what role will the mysterious Raven—the brooding hero who has refused to join the team in the past—play in the ultimate battle? The secrets of Earth-11's newest heroes and villains unfold in DC's most exciting new team title!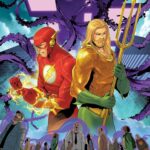 AQUAMAN & THE FLASH: VOIDSONG #1
Written by JACKSON LANZING and COLLIN KELLY
Art by VASCO GEORGIEV
Cover by JAY ANACLETO
Variant cover by VASCO GEORGIEV
$6.99 US | 56 pages | 1 of 3 | Prestige
ON SALE 6/21/22
They descend suddenly from the stars, in monumental ships like floating cathedrals. They are touched by a dark and terrible force from beyond our reality, silent but for the one note they emit that freezes all motion. Their mission: to drain the Earth of all its kinetic energy and leave it a lifeless husk. They never expected anyone could escape their song—but the Flash was in the Speed Force when they struck, and Aquaman was in the deepest ravine far below the ocean's floor. These heroes have little in common. They've rarely even fought side by side without their fellow Justice League members. Now they must find a way to work together against impossible odds to save the world and the people they love.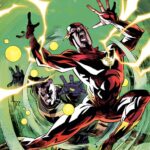 THE FLASH: THE FASTEST MAN ALIVE #3
Written by KENNY PORTER
Art and cover by JASON HOWARD
Variant cover by ANDY MUSCHIETTI
$5.99 US | 48 pages | 3 of 3 | Variant $6.99 US (card stock)
ON SALE 6/28/22
Barry has learned to control his powers and is finally starting to feel like the hero he's always dreamed he could be. But then a showboating new villain going by the name, the Top shows up looking to test his abilities and make some cash selling his weapons after showing how they can take out the Flash! Barry will need to use every skill he's picked up along the way if he's going to stop this topsy-turvy terror!!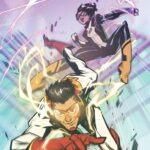 EARTH-PRIME #5: THE FLASH
Written by ESS CARSON and EMILY PALIZZI
Art by DAVID LAFUENTE
Cover by KIM JACINTO
Photo variant cover
$5.99 US | 48 pages | 5 of 6 | Variant $6.99 US (card stock)
ON SALE 6/7/22
Impulse and XS burst onto the scene in 2049! When Barry Allen and Iris West go out of town for a much-needed vacation, Bart and Nora are left to stay out of trouble in Central City. With their parents gone, Bart begs Nora to let him go on patrol and really be a hero, but Nora refuses, saying it's too dangerous without Barry there. But when one of Bart's classmates at Central City University starts causing trouble, how can Impulse not leap into action?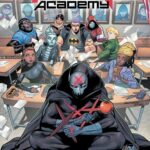 TEEN TITANS ACADEMY VOL. 1: X MARKS THE SPOT
Written by JEREMY ADAMS
Art by BRANDON PETERSON, WILL CONRAD, and others
Cover by BRANDON PETERSON
$17.99 US | 200 pages | 6 5/8″ x 10 3/16″ | Softcover
ISBN: 978-1-77951-562-9
ON SALE 7/12/22
The original New Teen Titans have reteamed and formed the Titans Academy to teach the next generation of super-powered teens…if the students can survive the training. Nightwing, Starfire, Raven, Beast Boy, Cyborg, and Donna Troy are the teachers at the school and will pass along their knowledge to the young recruits looking to learn how to use their powers to reach their full potential. Collects Suicide Squad #3, Teen Titans Academy #1-5, Infinite Frontier #0, and Teen Titans Academy 2021 Yearbook #1.
Share