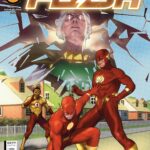 DC has posted several preview pages from next week's issue of The Flash, and you can see them at Adventures In Poor Taste. The preview features Jesse Quick and Max Mercury meeting the Barry Allen of a desolate Mad Max world, but of course he isn't 'their' Barry. Check it out at the link!
THE FLASH #784
Written by JEREMY ADAMS
Art by AMANCAY NAHUELPAN
Cover by TAURIN CLARKE
Variant cover by BENGAL
$3.99 US | 32 pages
Variant $4.99 US (card stock)
ON SALE 7/19/22
The search for Barry Allen! Wally and Wallace have arrived on the planet Pariah has trapped Barry on—but it's not quite a happy reunion among the Flashes. The Dark Crisis tie-in storyline continues!
Share