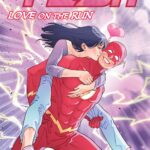 DC has posted several preview pages from next week's Flash annual, and you can see them at Adventures In Poor Taste. The preview features the fallout of Linda's revelation about her new powers, and Wally gets his first look at her upcoming novel. Check it out at the link!
THE FLASH 2022 ANNUAL #1
Written by JEREMY ADAMS
Art by SERGIO ACUNA
Cover by MARGUERITE SAUVAGE
$5.99 US | 48 pages
ON SALE 8/30/22
It's been a wild time for Wally West and Linda Park-West: their children are regaining their powers, Wally is bouncing between realms, and Linda is dealing with a mysterious power surge! Now, as Linda begins doing research for her upcoming book, Wally comes along for some quality time, and the couple end up on an adventure neither expected!
Share