DC has posted their full complement of solicitations for September 2023, and here are all the ones relating to the Flash. That month sees the relaunch of the new Flash solo title, which is written by Si Spurrier with art by Mike Deodato Jr, and continues to feature Wally West in the primary role. Wally also appears in the Titans ongoing and World's Finest: Teen Titans limited series, so he's kept busy these days.
You can see the solicitations in their entirety at Adventures In Poor Taste.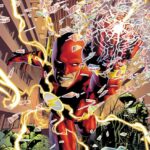 THE FLASH #1
Written by SI SPURRIER
Art by MIKE DEODATO JR.
Cover by MIKE DEODATO JR. and TRISH MULVIHILL
Variant covers by MIKE DEODATO JR. and DAN MORA
1:25 variant cover by RILEY ROSSMO
1:50 variant cover by JAMES HARREN
1:100 variant cover by MATT TAYLOR
Special foil variant cover by RAHZZAH ($7.99 US)
Creator Cover variant by ROSE BESCH
Blank sketch cover
$4.99 US | 40 pages | Variant $5.99 US (card stock)
ON SALE 9/26/23
Wally West has never been quicker, more fulfilled, more heroic. His loving family is around him. And yet something is off. Very off. His evolving understanding of his powers has opened Wally to new avenues of sci-fi adventure and attuned his senses to strange new ideas. Something whispers from the dark vibrations beyond the Speed Force, and as Wally experiments with creative new approaches to his powers he encounters new realms, mysterious allies, and mind-shattering terrors.
A new era for the Scarlet Speedster begins now from the team of Si Spurrier (Coda, Damn Them All) and Mike Deodato Jr. (Avengers).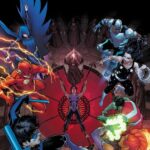 TITANS #3
Written by TOM TAYLOR
Art by NICOLA SCOTT
Cover by NICOLA SCOTT
Variant covers by JEN BARTEL and MIKE DEODATO JR.
1:25 variant cover by CULLY HAMNER
1:50 variant cover by NICOLA SCOTT
$3.99 US | 32 pages | Variant $4.99 US (card stock)
ON SALE 9/19/23
All hail the Church of Blood! With their newest leader, Brother Eternity, going public with a former Titan as part of his flock, the church has more followers than ever before. Do the Titans stand a chance at influencing the people of the world to fight brainwashing and prepare for the large intergalactic threat looming on the horizon?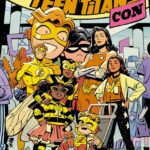 WORLD'S FINEST: TEEN TITANS #3
Written by MARK WAID
Art by EMANUELA LUPACCHINO
Cover by CHRIS SAMNEE and MAT LOPES
Variant covers by EVAN "DOC" SHANER and DANIEL BAYLISS
1:25 variant cover by DAN PANOSIAN
1:50 variant cover by LUCIANO VECCHIO
$3.99 US | 32 pages | Variant $4.99 US (card stock)
ON SALE 9/12/23
TITANSCON! As the Titans fandom converges on Metropolis by the thousands, the team crashes the con as a surprise—knowing it will leave the Titans (and their secrets) exposed. While Kid Flash and Speedy show off for the crowds, a new teenage villain, the obsessive Toyboy, shows up to wreak havoc and "claim" Wonder Girl for his own!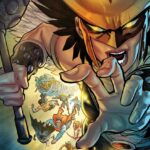 HAWKGIRL #3
Written by JADZIA AXELROD
Art and cover by AMANCAY NAHUELPAN
Variant cover by DERRICK CHEW
1:25 variant cover by FRANCIS MANAPUL
Hispanic Heritage Month variant cover by PABLO VILLALOBOS
$3.99 US | 32 pages | 3 of 6 | Variant $4.99 US (card stock)
ON SALE 9/19/23
It's hawks versus owls as Kendra soars to Gotham! Batman may have discovered a clue about Hawkgirl's new foe, and she's brought Galaxy and Argus as backup. Hawkgirl will need all the help she can get as she tangles with the Croc Bloc street gang moments after arriving, only to rise to the skies and face the Court of Owls and a small army of Talons!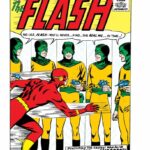 THE FLASH #105 FACSIMILE EDITION
Written by JOHN BROOME
Art and cover by CARMINE INFANTINO and JOE GIELLA
$3.99 US | 32 pages
ON SALE 9/26/23
It's the Flash versus the Master of Mirrors! Barry Allen may be the Fastest Man Alive in his superhero persona, but super-speed means little if he can't trust what he sees with his own eyes. Plus, in another adventure, an archaeologist accidentally awakens the sole survivor of an ancient civilization, who plans to use his advanced abilities to rule the Earth. As usual, it's up to the Flash to race to the rescue against the "Conqueror from 8 Million B.C.!" Experience these tales in their original presentation in this facsimile re-creation of the original issue.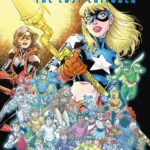 STARGIRL: THE LOST CHILDREN
Written by GEOFF JOHNS
Art and cover by TODD NAUCK
$16.99 US | 184 pages | Softcover | 6 5/8″ x 10 3/16″| ISBN: 978-1-77951-846-0
ON SALE 10/24/23
An epic teenage-DC-hero event brought to you by Teen Titans writer Geoff Johns and iconic Young Justice illustrator Todd Nauck! When Stargirl of the Justice Society and Green Arrow's ally Red Arrow discover a tragic teenage hero from the past has gone missing, they set out to find him…only to discover he's not the first teenage hero of the Golden Age to have vanished without a trace. But where have they gone? Who are they? And what does the Childminder want with them?
Collects all six issues of the limited series.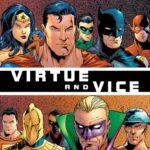 JLA/JSA: VIRTUE AND VICE
Written by DAVID S. GOYER and GEOFF JOHNS
Art and cover by CARLOS PACHECO and JESUS MERINO
$14.99 US | 96 pages | 6 5/8″ x 10 3/16″ | Softcover | ISBN: 978-1-77952-410-2
ON SALE 10/31/23
Offered again! Celebrate the legacy of artist Carlos Pacheco with this reissue of the graphic novel by David S. Goyer and Geoff Johns that brings together DC's two original super-teams: the JLA and the JSA. When a reunion leads to several surprise betrayals by trusted members within both squads, a conspiracy is uncovered that leads Superman, Wonder Woman, Batman, Zatanna, and others from the depths of Limbo to the Rock of Eternity. Have some heroes truly turned evil, or is there some greater menace lying in wait? Two teams. Two legacies. One epic adventure!
BATMAN: WAYNE FAMILY ADVENTURES VOLUME TWO
Written by CRC PAYNE
Art by STARBITE, MARIA LI, LAN MA, and JEAN KIM
Cover by VASCO GEORGIEV
$14.99 US | 208 pages | 6″ x 9″ | Softcover | ISBN: 978-1-77952-336-5
ON SALE 10/3/23
Batman is the World's Greatest Detective. But can he also live up to his other accolade of world's greatest dad?
Being a father to an endless supply of adopted, fostered, and biological children is its own challenge. But when you're Batman, surrounded by a slew of super-powered (and not) teenagers, you'll need every bit of your intellect to manage the brood. And Wayne Manor can barely contain the antics of Nightwing, Batgirl, Red Hood, Orphan, Spoiler, a few Robins, and newcomer Duke Thomas, a.k.a. the Signal, as they learn not only what it is to be heroes, but what it means to be a family.
In this continuing story, we are greeted by a few newcomers, including Catwoman, Superboy, Impulse, Wonder Girl, and other well-known faces from Gotham City and beyond in stories about dating, learning to drive, going on patrol, and simply what it means to be a teenage superhero.
Written by CRC Payne with inks by Starbite, this volume collects episodes 26-51 of WEBTOON's Eisner-nominated series, optimized for a brand-new reading experience in print. Includes never-before-seen bonus content from the creators themselves!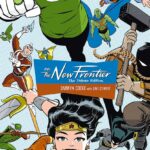 DC: THE NEW FRONTIER: THE DELUXE EDITION (2023 EDITION)
Written by DARWYN COOKE
Art and cover by DARWYN COOKE
$59.99 US | 520 pages | 7 1/16″ x 10 7/8″ | Hardcover | ISBN: 978-1-77952-626-7
ON SALE 11/7/23
OFFERED AGAIN! Welcome to 1950s America—a land without heroes. The masked mystery men who fought for freedom in the Second World War have been outlawed. And those icons who do still fight on—Superman, Wonder Woman, Batman—operate under hidden agendas and dueling ideologies. Yet this America needs its heroes more than ever. With darkness gathering on the horizon, only a bold new generation of adventurers is equal to the challenge. From Eisner Award winner Darwyn Cooke comes one of the most acclaimed superhero comics of the 21st century. Collects DC: The New Frontier #1-6 and Justice League: The New Frontier Special #1.
Share