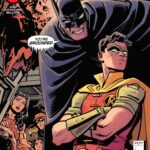 DC has posted several preview pages from next week's issue of World's Finest: Teen Titans #5, and you can see them at Adventures In Poor Taste. The preview features a flashback to the team's ugly history with a young metahuman named Haywire, which sets the tone for his enmity with them in the present. Check it out at the link!
WORLD'S FINEST: TEEN TITANS #5
Written by MARK WAID
Art by EMANUELA LUPACCHINO
Cover by CHRIS SAMNEE
Variant covers by EVAN "DOC" SHANER and BELEN ORTEGA
1:25 variant cover by DUSTIN NGUYEN
1:50 variant cover by ETHAN YOUNG
$3.99 US | 32 pages | Variant $4.99 US (card stock)
ON SALE 11/14/23
It All Goes Haywire!
Robin's reeling after a battle against Haywire's Anti-Titans doesn't go as planned, and a confrontation with his biggest stan, Kid Flash, reveals how Batman's protégé really feels about his role as a leader. Robin sees he must make a big move to earn back his teammates' trust—and shares a super-secret! Meanwhile, Speedy shoots his shot with Donna, but is rebuffed…Could Wonder Girl have eyes for another superhero in the making?
Share