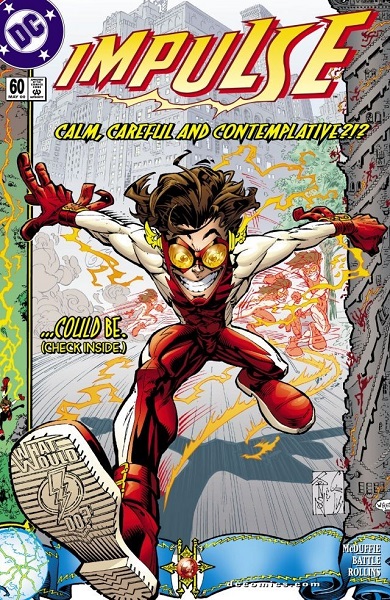 The only new Flash comic book this week is the next chapter of Smallville Season 11 guest-starring Impulse, out on Friday.
As far as digital back-issues go, last week we got two Flash issues and no Impulse. This week, we get two Impulse issues and no Flash. The schedule is getting a little confusing!
Impulse #59: After going through an ordeal in Young Justice, Arrowette visits Bart in Manchester just in time for the Valentine's Day dance, and begins to wonder…is middle school harder to deal with than super-villains? Todd DeZago, Anthony Castrillo, Prentis Rollins. Cover by Ethan van Sciver.
Impulse #60: Bart tries extra hard to be thoughtful, but when a new supervillain comes to town, he learns that sometimes you've just got to be…impulsive. Dwayne McDuffie, Eric Battle, Prentis Rollins. Cover by Jason Johnson.