Newsarama has a preview of DC's October solicitations, including Brave and the Bold #28. Justice Society of America, Titans, and the DCU Halloween Special 2009 also appear on the preview.
The Brave and the Bold #28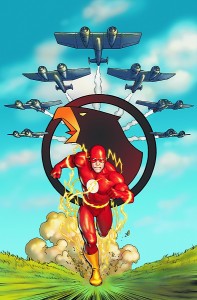 Written by J. Michael Straczynski
Art and cover by Jesus Saiz
J. Michael Straczynski (Amazing Spider-Man) and Jesus Saiz (OMAC PROJECT) continue their series of unlikely pairings with a match that spans the decades! When an experiment meant to alter the speed of light goes awry, Barry Allen finds himself face-to-face with some surprising allies – World War II's legendary Blackhawks! But Barry isn't the Flash they know, and he's not even the kind of hero they need to help fight history's most grueling war! What must Barry sacrifice to serve his country – and his world?
On sale October 21 • 32 pg, FC, $2.99 US
Notes: I'm certainly intrigued to see JMS writing the Flash. I actually think he'd be a good fit for the character, either on a second Flash book or to follow Geoff Johns when he eventually leaves the main Flash book.
Also: this guarantees that we'll have at least one Flash book in October, the month between the end of Flash: Rebirth (unless, as is likely, issues #5 and #6 are delayed in addition to #4) and the beginning of the three-issue Blackest Night: The Flash miniseries in November.
I suspect that the new Flash ongoing won't launch in October, though even if it does, they will probably hold the solicitation for a few days so that they can announce it at Comic-Con.
Full solicitations go up on Monday at 5 PM Eastern Daylight Time.