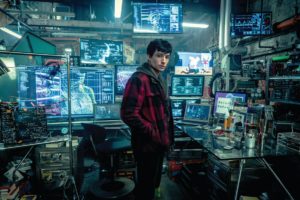 Warner Brothers has given us a peek at Barry's lab in the Justice League film, and it perhaps tells us a bit about him. He obviously has a scientific and technical background, as he's presumably able to understand what he's looking at on those screens, and can split his attention or take in a lot information so he isn't overwhelmed by all the data around him. And he's obviously studying his powers and/or is working to build a better suit for himself, as was hinted in an earlier teaser when Bruce Wayne speaks to him about it.
Plus he admires Nikola Tesla and watches Rick and Morty while he works, which makes him something of a typical nerd of this era.
We've seen the lab before in some of the teasers and trailers, but I believe this is the first high-quality still image we've had a chance to look at. So it's interesting and possibly illuminating for his character in the DC movieverse.
What do people think of his lab, and do you think it seems fitting for Barry Allen? Share your thoughts!