For the first time in years, we've got two Flash books per month, as the three-part Rogues' Revenge launches. DC has scheduled it for the same week as the regular Flash series, so we've got two out this week.
The Flash #242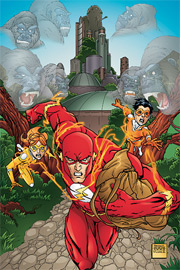 The Flash takes the twins to Gorilla City on their first international mission, and the round-the-world trip becomes an adventure in itself! Plus, the upheavals at Keystone News result in a huge discovery — one that could blow the Wests' cover for good!
Written by Tom Peyer; Art and cover by Freddie E. Williams II

Final Crisis: Rogues' Revenge #1 of 3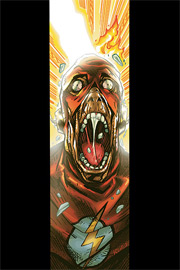 The critically-acclaimed Flash team of writer Geoff Johns and artist Scott Kolins reunites for a tale of villainy and twisted justice tying in to Final Crisis! Captain Cold and the Rogues were accessories to the murder of Bart Allen. They've become what they never set out to be — wanted! Wanted by the good guys, by former Rogue Pied Piper, and by the Secret Society of Super-Villains. But just as they try to disappear underground, good, old-fashioned revenge yanks them back. And where is the Flash during all of this? It's a Crisis — take a guess.
Don't miss the 5-page preview at Newsarama.
Written by Geoff Johns; Art and covers by Scott Kolins

Countdown to Final Crisis Vol.2

The second of four volumes collecting DC's explosive weekly series! In this volume, featuring Countdown #38-26, Karate Kid ventures to Oracle for answers, Jimmy Olsen attempts to join two exclusive clubs, and more!
Written by Paul Dini, Jimmy Palmiotti and Justin Gray, Adam Beechen, Tony Bedard and Sean McKeever; Breakdowns by Keith Giffen ; Art by various; Cover by Ed Benes

Tangent: Superman's Reign #5 of 12

A hero falls! Now, the remaining forces for good from both the Tangent and DCU Earths are forced to go deeper underground. Also, the secret power behind the Tangent Superman's throne is revealed!
Written by Dan Jurgens and Ron Marz; Art by Jamal Igle and Robin Riggs; Cover by Brad Walker and Livesay

Share