There's no new Flash comics this week, but Salvation Run is being collected, and Kingdom Come is being reprinted.
Salvation Run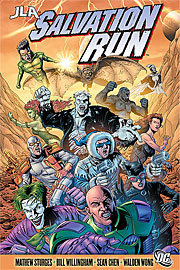 Written by Bill Willingham and Matthew Sturges; Art by Sean Chen and Walden Wong; Cover by Joe Corroney
The hit 7-issue miniseries spinning out of Countdown to Final Crisis is collected in this new trade paperback. Exiled to a distant hell planet, the villains of the DCU split into two warring factions led by Lex Luthor and The Joker!
Notes: While Salvation Run tended to focus on Luthor and the Joker, each issue was told from the point of view of one of the Flash's Rogues, the first group of villains to be exiled to the planet for murdering Bart Allen.

Kingdom Come – New Edition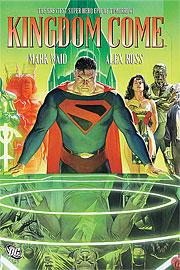 Written by Mark Waid; Art and Cover by Alex Ross
Eisner Award-winning artist Alex Ross provides an amazing new cover painting for this new edition of KINGDOM COME, which features a deluxe foldout cover only on its first printing! (Subsequent printings will not include the foldout.)
Written by Mark Waid and illustrated by Ross, this is the unforgettable, best-selling tale of a world spinning inexorably out of control. Waid and Ross weave a tale of youth versus experience, tradition versus change, and what defines a hero. KINGDOM COME is a riveting epic that pits the old guard – Superman, Batman, Wonder Woman and their allies – against a new, uncompromising generation of heroes.

Share