This week, the Flash appears in Justice League of America #25 and collected editions of Justice and Countdown to Final Crisis. He may also appear in DCU: Decisions #2 and Trinity #18.
Justice League of America #25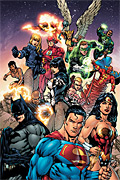 Written by Dwayne McDuffie ; Art by Ed Benes; Cover by Ed Benes
Vixen and Animal Man journey into the sacred Tantu Totem to solve the mystery of their altered powers. But Anansi, the African spider god responsible for these changes, has only begun reshaping the powers and histories of the Justice League, as eight-year-old Bruce Wayne shoots the burglar who killed his parents, Wonder Woman retires from the JLA after the tragic death of her husband, Superman, and The Green Lantern Corps quarantines Earth after one of their number destroys an American city. With the team's history changing before Vixen's eyes, is the JLA we now know gone forever?
Notes: Totally off-topic, I know, but speaking of Anansi, I'd like to recommend Neil Gaiman's novel, Anansi Boys. It's set in the same world as American Gods (in which Shadow does encounter a version of Anansi), but neither book requires the other.

Countdown to Final Crisis vol.3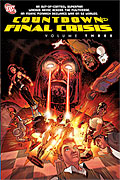 Written by Paul Dini, Adam Beechen, Justin Gray, Jimmy Palmiotti, Tony Bedard and Sean McKeever; Art by Scott Kolins, Tom Derenick, Jamal Igle, Howard Porter, Jesus Saiz and others Cover by Stefane Roux
In this third Countdown collection, featuring stories from issues #25-13, Jimmy Olsen's unpredictable super-powers bring him to the attention of Darkseid!
Notes: Yes, that's the most exciting thing they could think of to promote this volume.

Justice vol.2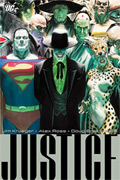 Written by Alex Ross and Jim Krueger; Art by Doug Braithwaite and Alex Ross; Cover by Alex Ross
The second serving of JUSTICE is now available in trade paperback! Featuring the amazing artistry of Alex Ross, this volume collects issues #5-8 of the hit maxiseries!

Other Books
The following books may or may not feature the Flash.
DC Universe: Decisions #2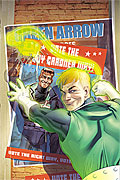 Written by Judd Winick and Bill Willingham; Pencil art by Rick Leonardi; Covers by Stephane Roux
Election season is upon us, and the stakes have never been higher! An unknown villain is attempting to assassinate the presidential candidates, and only the heroes of the DCU stand in the way. As Green Lantern, Green Arrow, Superman, Batman and more try to learn the killer's identity, they are faced with the difficult task of reconciling their own personal ideals with the mission at hand.
Brought to you by writers Judd Winick (Green Arrow/Black Canary, Titans) and Bill Willingham (Fables, Day of Vengeance) and featuring sensational art by Rick Leonardi (Robin, Supergirl)!

Trinity #18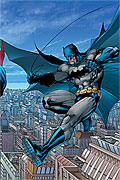 Written by Kurt Busiek and Fabian Nicieza; Art by Mark Bagley and Art Thibert, Scott McDaniel and Andy Owens, Mike Norton and Karl Kesel and Tom Derenick and Wayne Faucher; Cover by Jim Lee and Scott Williams,
Superman, Batman and Wonder Woman no more! The heroic Trinity have met their fates at the hands of their villainous counterparts in the Troika. Now the Earth trembles helplessly in the hands of the villainous group while Superman, Batman and Wonder Woman's accomplishments are being forgotten!

Share