This week the Flash appears in The Flash #246 as well as the last volume of Countdown to Final Crisis, Tangent: Superman's Reign and more.
The Flash #246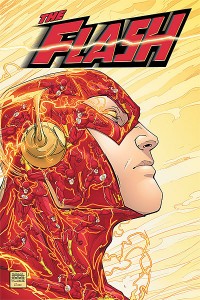 Written by Alan Burnett; Art by Carlo Barberi and Drew Geraci; Cover by Brian Stelfreeze
As Queen Bee circles in closer for the kill, everything The Flash holds dear starts slipping away from him. His powers, his wife – what's next to go?

Team books and more behind the cut.
Countdown to Final Crisis vol.4 (TPB)

Written by Paul Dini, Keith Giffen, Adam Beechen, Justin Gray, Jimmy Palmiotti and Sean McKeever; Art by Ron Lim, Carlos Magno, Al Barrionuevo, Jesus Saiz, Scott Kolins and others; Cover by Adam Kubert
The fourth and final COUNTDOWN TO FINAL CRISIS TP is here, collecting stories from issues #12-1 and featuring an all-new cover by Adam Kubert! Don't miss this epic's conclusion, starring Jimmy Olsen, Mary Marvel and The Challengers from Beyond.

Tangent: Superman's Reign #9 (of 12)

Written by Dan Jurgens and Ron Marz; Art by Wes Craig and Mark McKenna; Cover by Brad Walker
It's Batman and Batman vs. the world! The Tangent Batman's group of "Outsiders" must hold their ground against the Tangent Superman's armada!

Super Friends #9

Written by Sholly Fisch; Art and Cover by J. Bone
Happy Birthday, Superman! The Super Friends get together for a party celebrating DC's first and greatest hero! But Lex Luthor wants to wish Superman a very un-happy day!

Other Likely Appearances
The Flash often appears in Trinity, and Kid Flash often appears in Tiny Titans, both of which have issues out this week.
Share