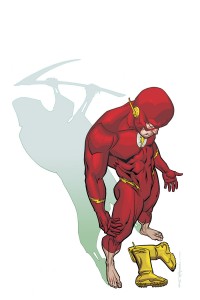 This Wednesday marks the final issue of The Flash…for the third time in as many years. DC's been making a real habit of canceling and relaunching.
The Scarlet Speedster will return in April 2009 with the 6-issue miniseries Flash: Rebirth by Geoff Johns and Ethan Van Sciver.
The Flash #247
Written by Alan Burnett
Art by Carlo Barberi & Drew Geraci
Cover by Brian Stelfreeze
"This Was Your Life, Wally West" concludes! As Flash stands alone without his powers or family to support him, only one question remains – is this end of the Fastest Man Alive?
On sale December 24 • 32 pg, FC, $2.99 US
Other Stuff
The Flash may also appear in this week's Trinity.
Also: Next week's comics arrive on Friday instead of Wednesday. I guess they're delayed one day due to Christmas, which pushes them onto New Year's Day itself, which then pushes them to January 2.

Share