The big news this week, of course, is the first issue of Flash: Rebirth, the 5-issue miniseries relaunching the Flash franchise!
Also coming out this week are Justice Society of America, the Teen Titans Annual (leading into the "Deathtrap" crossover), and collected editions of DC/Wildstorm: Dreamwar and JSA: Thy Kingdom Come.
The Flash: Rebirth #1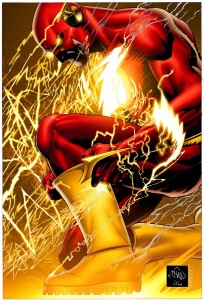 Written by Geoff Johns
Art and covers by Ethan Van Sciver
Through the decades, many heroes have taken the mantle of The Flash, but they all ride the lightning that crackles in the wake of the greatest hero the DC Universe has ever known, the man who sacrificed himself to save the Multiverse: Barry Allen!
Following the events of Final Crisis, Barry has beaten death and returned to a fast-paced world that a man out of time wouldn't recognize. Or is it a world that is only just now catching up? All the running he's done before was just a warmup for the high-speed race that he and every other Flash must now run, because even though one speedster might have beaten death, another has just turned up dead! From Geoff Johns and Ethan Van Sciver, the visionaries responsible for the blockbuster Green Lantern: Rebirth and The Sinestro Corps War, comes the start of an explosive and jaw-dropping epic that will reintroduce to the modern age the hero who single-handedly birthed the Silver Age of comics! DC history will be made, and the Flash legacy will be redefined!
This issue will ship with two covers. For every 25 copies of the Standard Edition (with a cover by Ethan Van Sciver), retailers may order one copy of the Variant Edition (with a cover by Ethan Van Sciver). Please see the Previews Order Form for more information.
1 of 5 · 40 pg, FC, $3.99 US
This first five pages, as presented at NYCC last month, are in a preview at Newsarama.

Team books and collections after the cut:
Team Books
Justice Society of America #25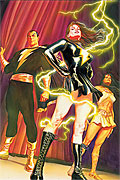 Written by Geoff Johns & Jerry Ordway
Art by Jerry Ordway & Bob Wiacek
Cover by Alex Ross
Variant cover by Dale Eaglesham & Nathan Massengill
The "Black Adam and Isis" epic concludes here! With Billy Batson banished from the Rock of Eternity, the Justice Society calls upon an old friend to help in the battle against the Black Marvel family and stop Black Adam and Isis once and for all!
32 pg, FC, $2.99 US

Teen Titans Annual 2009
Written by Sean McKeever
Art by Fernando Dagnino & Raul Fernandez
Cover by Andrew Robinson
Prelude to the "Deathtrap" crossover between the pages of Teen Titans, Titans and Vigilante! Titans Tower has mysteriously come to life to attack the Teen Titans! But The Titans have one secret weapon their unknown assailant doesn't know about. Will they be able to use this weapon in time to save themselves? Find out as the story continues in Titans #12! And be sure to check out the awesome interlocking covers by Andrew Robinson spanning the entire "Deathtrap" story that create one massive image!
48 pg, FC, $4.99 US

As usual, there's also a good chance of a Flash appearance in this week's Trinity.
Collections
DC/WildStorm: Dreamwar TP

Written by Keith Giffen
Art by Lee Garbett & Trevor Scott
Cover by Mike McKone
The six-issue miniseries that pits the heroes of two universes against each other is collected! The WildStorm Universe is being torn apart — and when heroes from the DCU begin crossing over into their world, things go from bad to worse!
144 pg, FC, $19.99 US

Justice Society of America: Thy Kingdom Come Part 1 TP

Written by Geoff Johns & Alex Ross
Art by Dale Eaglesham, Ruy Jose, Fernando Pasarin and Rodney Ramos
Cover by Alex Ross
Presenting a stunning new volume collecting Justice Society of America #7-12, featuring the start of the sequel to the classic Kingdom Come! Stranded from an alternate Earth plagued by heroes-gone-extreme, Kingdom Come Superman runs into a JSA he never knew.
160 pg, FC, $14.99 US

Share