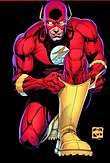 With Flash: Rebirth coming out this week, there's an awful lot of Flash-related chatter on the internet.
Comics and…other Imaginary Tales is really looking forward to Flash: Rebirth.
Dull Doll is excited that the "original Flash is back from the dead". No comment.
Geoff Johns has a new website, including Flash: Rebirth wallpapers.
The Orlando Comics Examiner talks about Flash: Rebirth and legacy characters.
What Were They Thinking? contemplates the Flash's super-speed eyesight.
Johnny Quick's speed formula, "3X2(9YZ)4A," gets a mention in Comic Coverage's list of super-hero "magic words."
It looks like there won't be any Wally West backup stories in the new Flash, at least not to start with, as the New York Times identifies all seven co-features in the initial lineup.

And then there's these (believe it or not), Flash-themed high heeled shoes.
On another note, Every Day is Like Wednesday reviews The Incredibles #1, by long-term Flash writer Mark Waid.
At K-Squared Ramblings, we have Why Las Vegas is a bad idea for Comic-Con.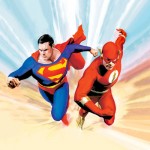 And don't forget to keep an eye on Comics Should Be Good today. Voting in the Superman vs. Flash poll in their DC/Marvel Superhero Tourney starts at 6pm Eastern time!

Share