I've updated the site to a new version of WordPress Mobile Edition, which seems to handle both low-end and high-end phones well enough that I don't need a separate plugin for iPhone and Android visitors. This should make things a bit cleaner.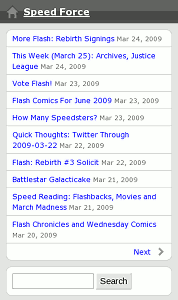 Anyway, if you have a web-capable phone, please give the site another look when you get a chance and let me know whether anything breaks!
In particular, I want to know:
What phone are you using?
Are you using the built-in web browser or an add-on like Opera Mini?
Can you view the site?
Does it look like the image above, or just like it does on your computer?
Can you make a comment?
If you can't post a comment, please try one of the following:
Bring up the site on your computer to leave the comment.
Send me a Twitter direct message to @SpeedForceOrg.
Email me at speedforce – [at] – pobox – [dot] – com.
Thanks in advance!
Share