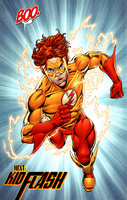 Newsarama's Vaneta Rogers has interviewed Geoff Johns about Final Crisis: Legion of Three Worlds, character returns, and what's next. (Note: Major spoilers for Legion of Three Worlds #4.)
Most of the article focuses on the Legion and the upcoming Adventure Comics, but there is a little bit about Bart Allen:
What role does Bart Allen play in the DCU now that he's back as Kid Flash?

GJ: Well, you'll see that in Flash: Rebirth and beyond that. Kid Flash and Superboy both play pretty big roles in the DCU coming up. They're both in Blackest Night. They're going to be front and center in the DCU over the next year. As will the Legion.
That makes sense: Aside from indications that Blackest Night will involve the entire contents of the DC Encyclopedia, the story is about the dead rising from their graves — and here are two characters who have just returned from death, though admittedly they're a bit more lively than the Black Lanterns appear to be. Though given the way Conner returned, there's still a body lying around in the present day. I can imagine it being animated as a Black Lantern and the heroes having to put it back where it was so that he can be resurrected in the 31st Century.
But I'm beginning to wonder, between this and other interviews, just how many characters can be "front and center" of the DCU! 😀
Share