Remember: due to the holiday, comics are shipping on Thursday this week (at least in the US).
Justice League of America #33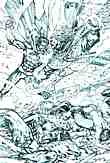 Written by Dwayne McDuffie
Art by Rags Morales
Cover by Ed Benes
It's Dharma vs. Starbreaker for control of the greatest source of power in the DC Universe. No matter the victor, the Justice League loses!
32 pg, FC, $2.99 US
Note: I'm not actually sure that any Flashes will appear in this one, since Wally quit the team a few issues ago.

Justice Society of America #27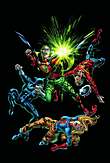 Written by Jerry Ordway
Art by Jerry Ordway & Bob Wiacek
Cover by Jerry Ordway
The younger JSA team members find their headquarters in total lockdown — with The Flash, Green Lantern and Wildcat trapped inside! Can the junior JSA-ers break into their own home base? And what secret from the Atomic Age seeks retribution from the three founding members?
32 pg, FC, $2.99 US

Also a good bet: the final issue of Trinity, which is likely to guest-star just about everyone in the DCU.
Share