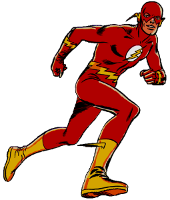 LA Times' Hero Complex has a tribute to Carmine Infantino, co-creator of the Silver Age Flash, who celebrated his 84th birthday yesterday.
I got to see the legendary artist at the 2006 Comic-Con International, where he appeared on at least two panels: a Carmine Infantino spotlight (where he mostly reminisced about his time in the comics industry) and the 50 Years of the Flash (not counting Jay Garrick) panel featuring at least half a dozen writers and artists who had worked on The Flash.
One of the stories he told at both panels was about the "war" between him and Julius Schwartz: he'd try to draw ever-more-nasty cliffhangers on his covers, and every time, Julie would come up with a story to go with it. So finally he drew one with the Flash and the Golden Age Flash both racing to save some guy, and said, "There! Top that!" The rest, of course, is history
The HeroComplex post incudes a gallery of classic Infantino covers.
Share