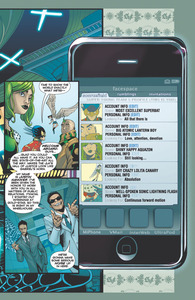 I'd like to make a suggestion to comics fans everywhere. Or at least on the internet. Actually, probably most fans on the internet (comics or otherwise) could benefit from this suggestion.
But first, some background.
I've been trying for a few weeks to register to comment at DC's official blog, The Source. Or rather, I've registered, but the original message never arrived, so I've been trying to get it to send me a password. No luck — only about 1 in 4 password resets actually show up in my mailbox, and I have yet to receive an actual password after confirming one.
But clearly someone is able to register, as you can see from the high quality of commentary on this Final Crisis Aftermath: Dance preview. (Be warned: there's some swearing if that sort of thing bothers you.)
The Commentary
is it just me or is DC beating a dead horse with release after release of Final Crisis Aftermath mini series??? Enough all friggin ready.
For the love god, ANOTHER spin-off from a failed mini-series? DC, when you host your retailer summits, do you even listen to the retailers? Do the retailers stand and say, "Hey, Dan, can you please flood the market with a lot of junk and we'll 'see-what-sticks'? And while you're at it, how about dismantling your core characters to the point where they are no longer recognizable using rotating creative teams who constantly mess up continuity?"

I'm done.
There's actually a point in this one (dismantling core characters), but it's buried inside the "how dare they publish something I don't want!"
gay. really gay. fuck final crisis and fuck all 4 of its "after the shitty job we did" mini-series.
Gee, not only swearing, but using "gay" as an insult. Obviously someone with discerning taste here. 🙄
From the DC Comics Corporate Offices:

"Our target demography is picking up Manga over comics, so if we create a team of young Japanese superheroes. It's really going to change to comic industry!"
"And hey, let's introduce them in Grant's FANTASTIC summer event, he's such a great writer! By the way, has he killed Batman the second time yet?"

FAIL.
Red Kitty Rage Alert!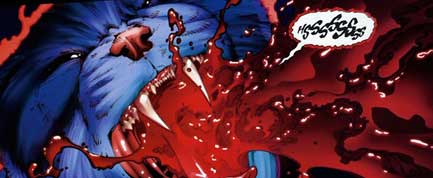 I do agree with mambazo, who says:
The ridiculous fan entitlement in this comment section only serves to show that the average comic fan has the maturity level of about an eight year old.
The Suggestion
So I'd like to make a suggestion to comics readers everywhere:
If you aren't interested in a comic, and have no stake in the characters, JUST DON'T BUY IT. Don't waste everyone's time whining about how DC/Marvel/YoMamaComics is putting out some product that you personally have no interest in.
I can understand if you actually read the book and didn't like it.
I can understand if you're a fan of SuperUltraGuy, and you don't like the latest take on the character. (Trust me, I understand!)
But if a publisher decides to print a comic book that you have no interest in whatsoever? A book that features characters you don't care about in a story you don't care about, that doesn't interfere with books you are reading? Why get angry? Why take it personally?
I don't read Superman, but I'm not going to get on message boards saying that DC is stupid for publishing it.
DC publishes dozens of comics that I have no interest in. So do Marvel, Dark Horse, Image, etc. So what? I couldn't afford to buy every comic published. And if I did, I wouldn't have time to read them all. I don't have time to read all the comics I am buying — I'm about five months behind on Buffy and two on House of Mystery and Farscape, and I still haven't read anything from this week or last except for Flash: Rebirth #2.
As long as there are comics I do want to read, why should I care that there are comics that I don't want? As long as someone wants to read it, and as long as it's not screwing up (IMO) characters and stories that I do care about, what's the problem?
Share