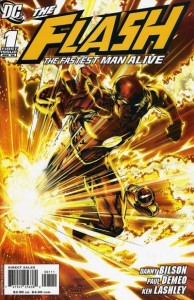 In recent weeks I've come to realize that I'm voicing some of the same complaints about Flash: Rebirth that I saw other people voice about Lightning in a Bottle, the story arc which attempted to launch Bart Allen as the Flash after Infinite Crisis.
No, seriously. Here are some of the things I've found myself saying (paraphrased a bit):
I don't recognize Barry Allen in this book. He's so mopey. Where's the Barry I remember?
Why do all these flashbacks contradict past stories? Didn't the writer actually read any issues of Flash with Barry in them?
After reading a fraction of it, I'm not enjoying the new direction.
These are some of the problems I've had with this book, and yet it drove me insane to see people make the exact same complaints about Bart's book just a few years ago. Not that I loved Flash: The Fastest Man Alive, I had some serious problems with it…but I was willing to give it a chance to settle in and see what it turned into after the origin story was finished.
So I'm trying to figure out: why does it bother me now when it didn't bother me then? Why, 3 years ago, was I willing to wait 6 issues for Bart to lighten up when the writers said he would do so by the end of the story? Why, today, am I not willing to wait 6 issues for Barry to lighten up when the writer has said that Flash: Rebirth is about the rebirth of Barry's humanity? Why, in 2006, did I compare a 6-part comic book structure with a standard 1-hour TV show structure, say that the first issue was basically the teaser…and point out that we hadn't actually seen the new direction, and wouldn't until the end of the 6-part story…when today I'm losing interest at the 3-issue mark?
I'm really not sure.
Maybe I cut Bart's series some slack because I was expecting things to change since he was new to the role, whereas this time around, it's all about putting Barry back in the spotlight, so I'm expecting things to be more familiar.
Maybe I was willing to forgive Danny Bilson and Paul DeMeo more because I knew they were new to writing comics, and could see that they were learning as they went.
Maybe it's because I'd rather see Bart replace Wally than Barry replace Wally. As annoyed as I was that they chose to relaunch the book with Bart, at least they were moving the legacy forward. If you look at the Flash as a legacy, they've taken one step forward and two steps back in the last three years.
Maybe it's just that after three years of watching DC mismanage my favorite character, I'm too bitter to cut the latest relaunch any slack.
Share