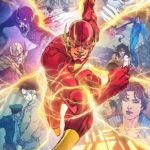 Newsarama has an interview with incoming Flash writer Joshua Williamson, in which he talks a lot about what will happen with Wally West in DC: Rebirth, the new villain Godspeed, and more. The first Flash issue of the new relaunch will be Flash: Rebirth #1, which is due out on June 8th, while Flash #1 is scheduled for June 22nd.
Williamson: He [Wally] idolizes the Flash. He wants to be like the Flash. He really idolizes him. But as the story goes on, things…. you know that saying about "never meet your idol?" He's going to kind of see that the Flash is not exactly what he thought. Because Barry is a flawed person. He wants to do everything he can and be a great hero, but sometimes Barry can't see the forest for the trees, because he's trying to be so much. He can't always focus and see.

Whereas Wally, I think Wally's perspective is a little more grounded than Barry's. I think that he is able to take it all in in a different way than Barry can. He can see the Force, whereas I don't think Barry can, right now at least. That's part of the story, is showing that and then showing how we move forward from that.
Williamson acknowledges that it's now widely known that Wally will become Kid Flash due to his appearances in Teen Titans promotional art, but says people will be surprised by how it happens. And he also notes that he'll be keeping New 52 continuity intact where he can. Check out the interview and see what you think; there's more preview art by Carmine DiGiandomenico at Newsarama as well. DiGiandomenico will be alternating with Neil Googe on the art duties because of the book shipping twice monthly.
Interested in what Williamson has to say about the future of the book? Sound off here!